Ayurveda and Clinical Acupuncture book Released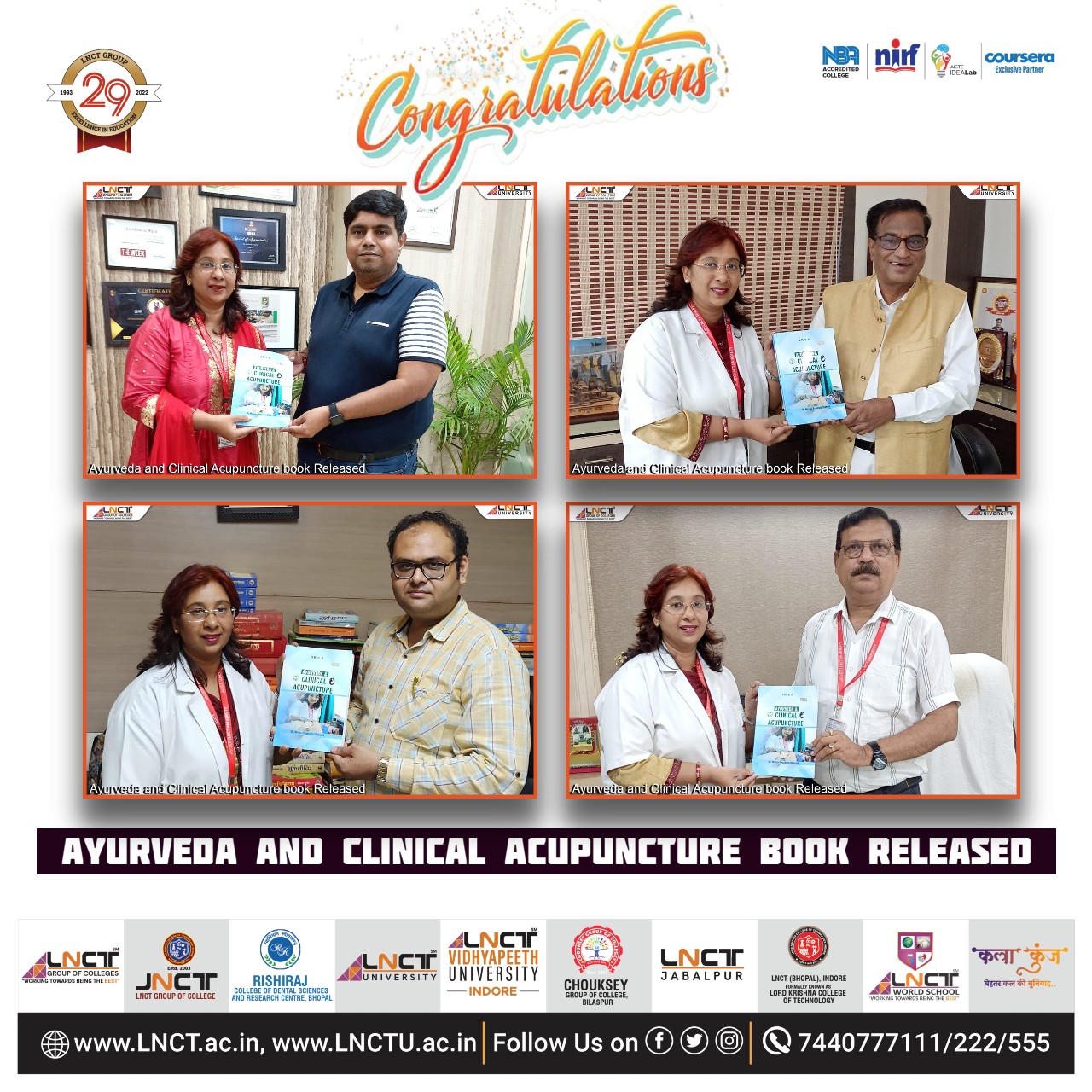 Ayurveda and Clinical Acupuncture book Released by the Hands of Respected Shri J. N. Chouksey Sir(Chancellor lnct university), Dr Anupam Chouksey Sir (Pro-chancellor lnct university), Dr N. K. Thapak Sir(Vice-chancellor lnct university), Dr Sapan Jain Sir (Principal L. N. Ayurved college), Dr Vishal Shivhare Sir(Director L. N. Ayurved college)
Ayurveda and Clinical Acupuncture Book content –
Fundamental of Acupuncture.
Anatomy of Acupuncture.
Types and uses of Acupuncture points in patients.
Principles of Acupuncture point selection.
Acupuncture is an Art of healing i.e. treating disease by pricking tiny needles on the body surface.
Government of India Ministry of Health and Family welfare committee develop essential criteria for grant of recognition that Acupuncture Therapy is in Alternative Medicine.
Dr Mrunal Dharmik (B.A.M.S.M.D./D.A.C.Acupuncture)is a qualified doctor with vast experience in practicing the science of Acupuncture since 24 year's, she has treated thousands of patients successfully by Acupuncture Therapy. Now a days she is treating patients successfully in Acupuncture Opd at J. K. Hospital, Bhopal.
W. H. O. declared that the successful treatment by Acupuncture can be done – Diseases of Nervous system, Respiratory system, cardiovascular system, gastrointestinal system, urinary system, gynaecological and obstetrics, soft- tissue- mussels-bones, skin disease, ear, eyes, endocrine disease, psychiatric disease.