B.Sc. in Agriculture: Scope & Future in India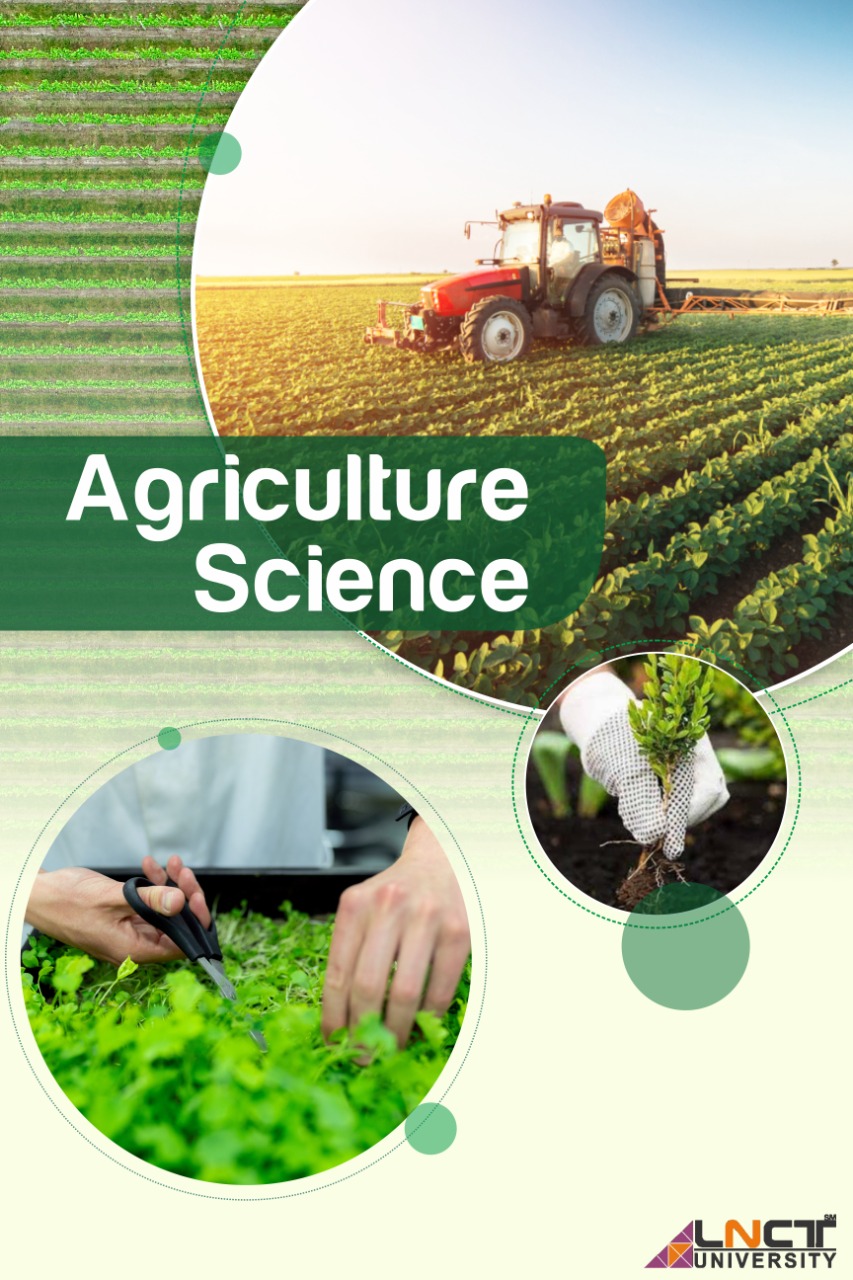 B.Sc. in Agriculture is one of the leading courses since India is an agricultural country. BSc agriculture Scope is increasing rapidly. In the near future agricultural science has a huge growth; it is important for the sustainability of the world. Major technologies & science will drive growth in the field of agriculture too, initiating a new era.
Students pursuing Science in their higher secondary, with an aptitude for agriculture and its sciences can choose to opt for their Bachelor's in Agriculture. B.Sc. in Agriculture is a course that offers students with essential and intricate knowledge of the field of Agro-based industries and their growing technology.
As India is an agriculture-based country, it can be fairly concluded that this sector will never run out of job opportunities and employment in the future.
Agriculture is a professional degree that is recognized by the Government of India. It is a four-year undergraduate course. The course deals with the research and practices in agricultural science, dealing with disciplines like Genetics and Plant Breeding, Agricultural Microbiology, Plant Pathology, Soil Sciences, etc.
Career Growth of Agriculture Science
Reportedly, India is one of the top 15 leading exporters of agricultural products in the world. Statistics show that export from India reached the US $38.54 in FY19 and the US $35.09 in FY20. The food sector in the organic aspect in India is thought to grow at 10% during the coming decade and is expected to reach Rs. 75,000 Cr. by 2025.
In 2021, the Indian Government is hoping to increase its surplus food production and the production of Horticulture and other cash crops. India has the largest livestock population and largely deals in the sector of poultry and animal husbandry, which consists of almost 31% of the world population. Milk production, especially, is thought to grow to 208 MT in the coming year.
    Source: https://www.ibef.org/industry/agriculture-india.aspx

 B.Sc. in Agriculture Career: India & Abroad
India is expected to achieve the ambitious and important goal of doubling farm income in the next two years. Due to increased investment in agricultural infrastructure, the sector is expected to generate better production in the forthcoming years.
The growing use of genetically modified crops will improve the yield for Indian farmers. India is claimed to be self-sufficient in pulses in the coming years due to the concentrated and combined efforts of scientists to get early maturing varieties of pulses and the increase in minimum support price.
In the coming five years, the central government is trying to aim for US$ 9 billion in investments in the fisheries and marine sectors under the scheme of PM Matsya Sampada Yojana.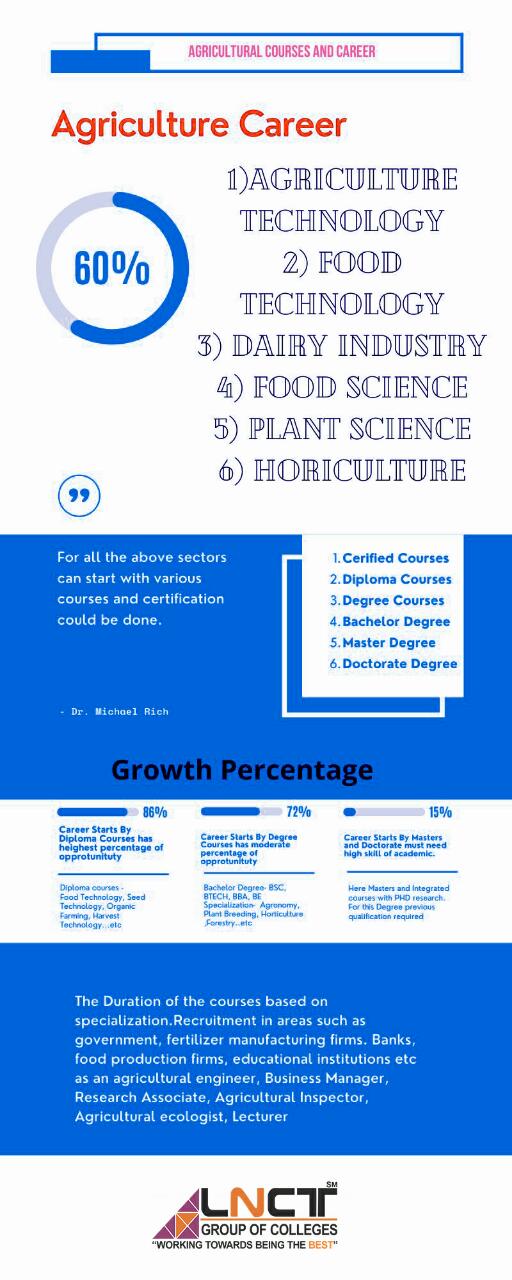 The government is targeting to raise our fish production to 220 lakh tones by 2024-25. Apart from these, the adoption of food safety and the practice of Quality assurance mechanism, the analysis of Hazard, good and hygienic manufacturing practices are some that will offer several benefits in the coming times. As statistics show, the agriculture export from India is likely to reach the target of US $60 billion by 2022.
(The reference is taken from – Agricultural and Processed Food Products Export Development Authority (APEDA),
Press Information Bureau, Union Budget 2020-21, Department of Commerce and Industry, Ministry of Statistics and Programme Implementation, Press Releases, Media Reports, Ministry of Agriculture and Farmers Welfare, Crisil*as per 3rd advance estimates, PE- Provisional Estimates)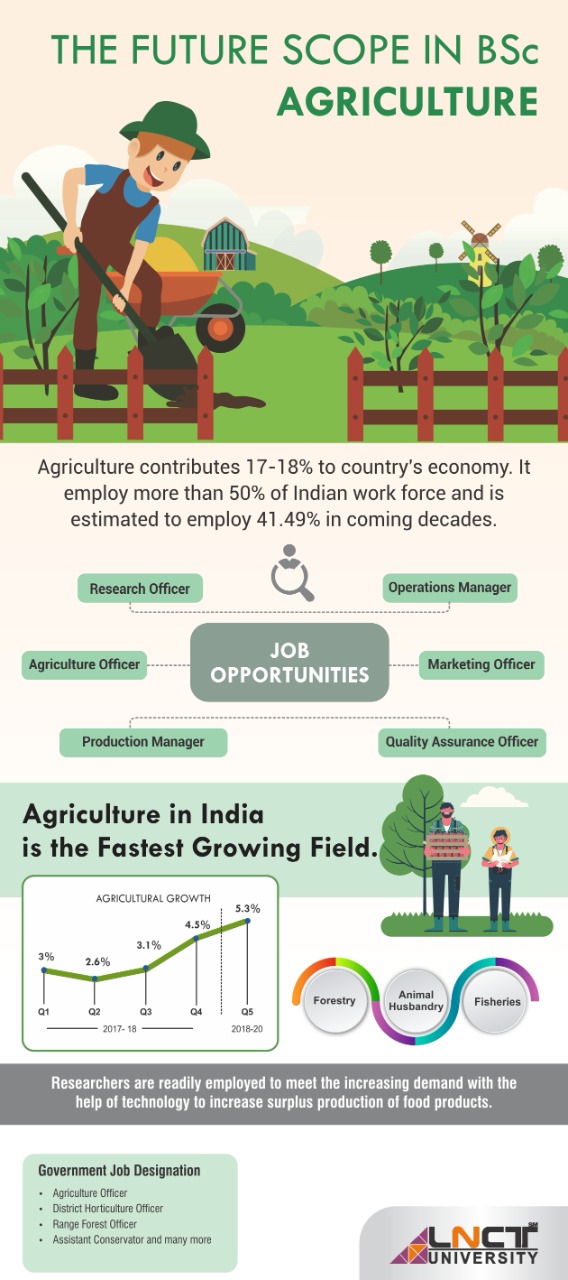 Average Salary of B.Sc. in Agriculture & Job Prospectus
The average minimum salary for a B.Sc. in Agriculture graduate is around INR 7, 00,000 to  INR 9, 00,000. Government banks also recruit graduates to fill up various Officer level posts (generally dealing with loans).
They can also be appointed as in the private sectors, agriculture science graduates may find jobs as managers at plantations, as officers at fertilizer manufacturing firms, agricultural products marketing firms, agriculture machinery industries food processing units, etc. The average starting salary of these officers is generally between Rs 3 to 6 lakh per year. And as you gain experience, there is a scope for better remuneration.
After doing B.Sc. in Agriculture, one may also go for Masters in Agriculture and take up a teaching job, or even go for a Ph.D. to build a career in Agricultural Research.
There are multitudes of government as well as private-sector jobs that are available for students graduating in agriculture sciences. Some of the designations for the same include-
| | |
| --- | --- |
| Agri-Preneurship | Agriculture Research Scientist |
| Research Officer | Quality Assurance Officer |
| Agriculture Officer | Agriculture Loan Officer (in Banks) |
| Production Manager | Farm Manager with the State agriculture department |
| Food Processing Units in Government | Subject Matter Expert ( Krishi Vigyan Kendras (KVKs) |
| Business Development Manager | Operations Manager, Farm Manager with the State agriculture department etc. |
BSc Agriculture Scope & Opportunities: Academic Pursuits after B.Sc. in Agriculture
There is a post-graduation degree & another similar program in agriculture which will widen the prospect of the knowledge gained. It gives you the opportunity to specialize in various branches of agriculture. M.Sc. in several Agriculture courses is a 2-year degree that can be opted by the student who holds a B.Sc. degree in agricultural fields.
Perusing a post-graduation degree will open more occupation avenues in the agriculture field.
Best College for Agriculture Science in Madhya Pradesh
The University, School of Agriculture Science (SoAS) provides many facilities for the students that make it easier for them to enroll and blissfully pursue and complete their studies in the field. There has been a lot of development done in Computers and information technology but the requirement and scope in agricultural sciences, livestock management would always be there to sustain the survival of the human race.
For the students graduating from the BSc Agricultural series, there are many government and private jobs. The state-level agricultural department works for the development of agricultural production and hires officers. Government banks also hire graduates from these institutes especially in the loan department related to the farmers and the poultry sector.
Courses Offered In Agriculture Science, At LNCTU:
LNCT University offers a lot of courses and branches that deal with the sector of agriculture. Various Bachelor's and Master's degrees are offered, that aim to inculcate and intricate knowledge that teaches the students real life applications that help them in the application of their knowledge.
Branches Offered by LNCTU in Agriculture Science. Agriculture is an umbrella field that includes a number of branches that include the following disciplines.
B.Sc. (Hons.) in  Agriculture

Branches

Agronomy

Horticulture (Vegetable Science)

B. Tech.(Agriculture)

Horticulture (Fruit Science)

Soil Science & Soil Chemistry

M.Sc. (Agriculture)

Genetics & Plant Breeding

Agricultural Extension Education
Agriculture is a fast-growing sector, and will employ a large number of people in the coming decades. Agriculture being the backbone of humankind will transform into many folds in coming years.
We at LNCT aim to inculcate and equip students who aim to pursue the agriculture field with essential skills that will help them to reach heights in the field. Specializations in the various fields help aspirants to improve their knowledge and apply their essential skills. https://lnctu.ac.in/school-of-agriculture/