Globalization Of Education to Ameliorate Deployment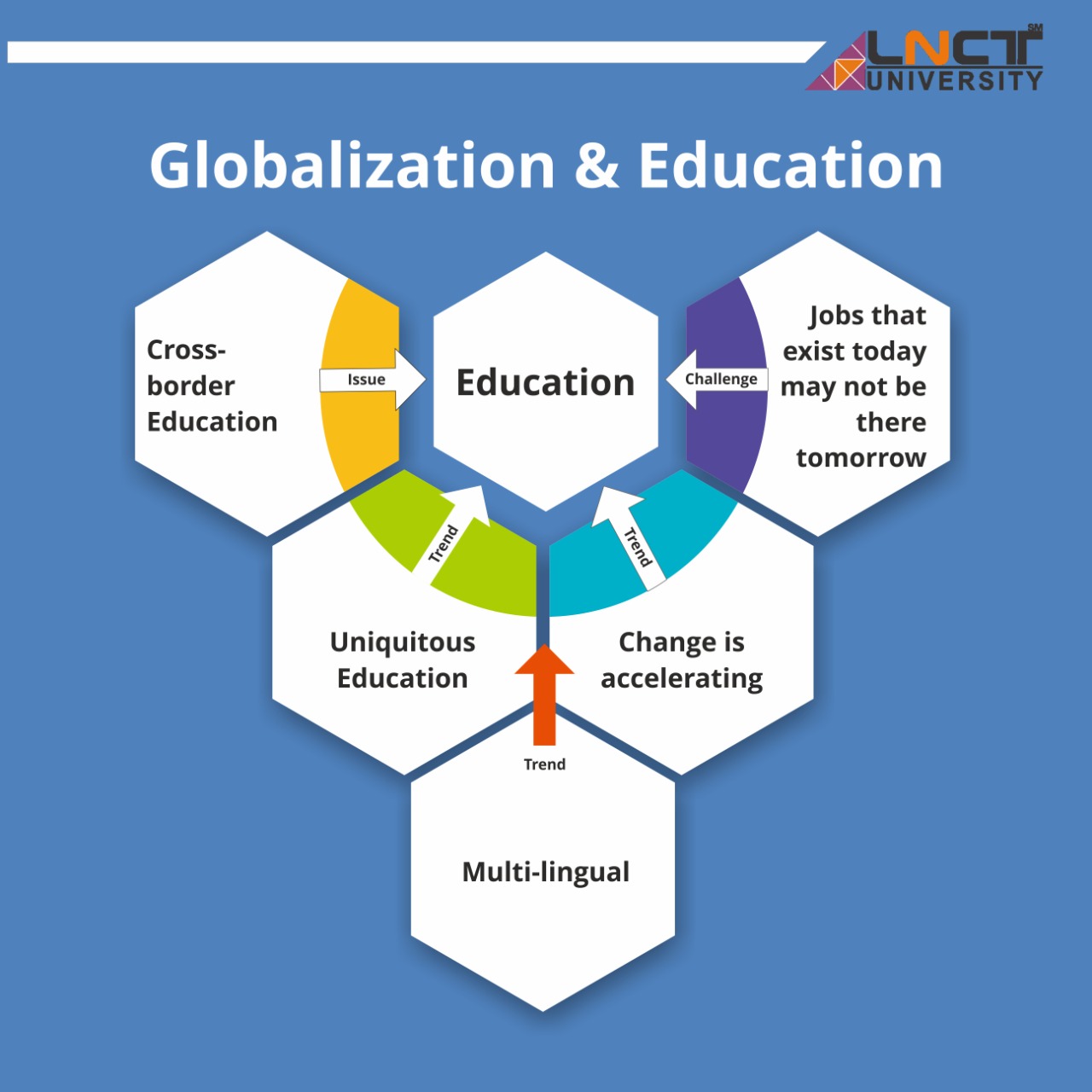 Globalization of Education is the integration and application of similar education systems and knowledge throughout the world across the borders, improving the quality & deployment of education worldwide. Globalization is a complex event that has had long-reaching effects.
Humans can only contribute and benefit from globalization if they are equipped with skills, knowledge, and values and with their capabilities and rights to pursue their basic likelihoods.
Globalization is a relatively recent concept in research, becoming famous in public, academic, and educational discourse in the 1980s.  Many leading scholars of globalization have argued regarding the major causes or shapers of the same, precisely the movement & mixing of elements beyond the local or national level, at least many centuries old.
Globalization and education are interrelated from a historical view. Historical processes that may identify as crucial precursors to political-economic globalization during the late modern colonial and imperialist eras influenced the development and rise of mass education.
It includes the growth of global networking, for instance, the internet, worldwide e-communication, and transportation. It is the increasing interdependence of the world's inhabitants on an economic technological, cultural, as well as political level. An efficient education ecosystem is the foundation of opportunities to lead a good life.
Making sure that all the children have enough access to knowledge is an important public sector function for all countries. Inter flow and transfer in political, social, cultural, and learning areas, international alliances and competitions, international collaboration and exchange, global village, and multi-cultural integration are other essential aspects.
Importance of Education in the Globalized World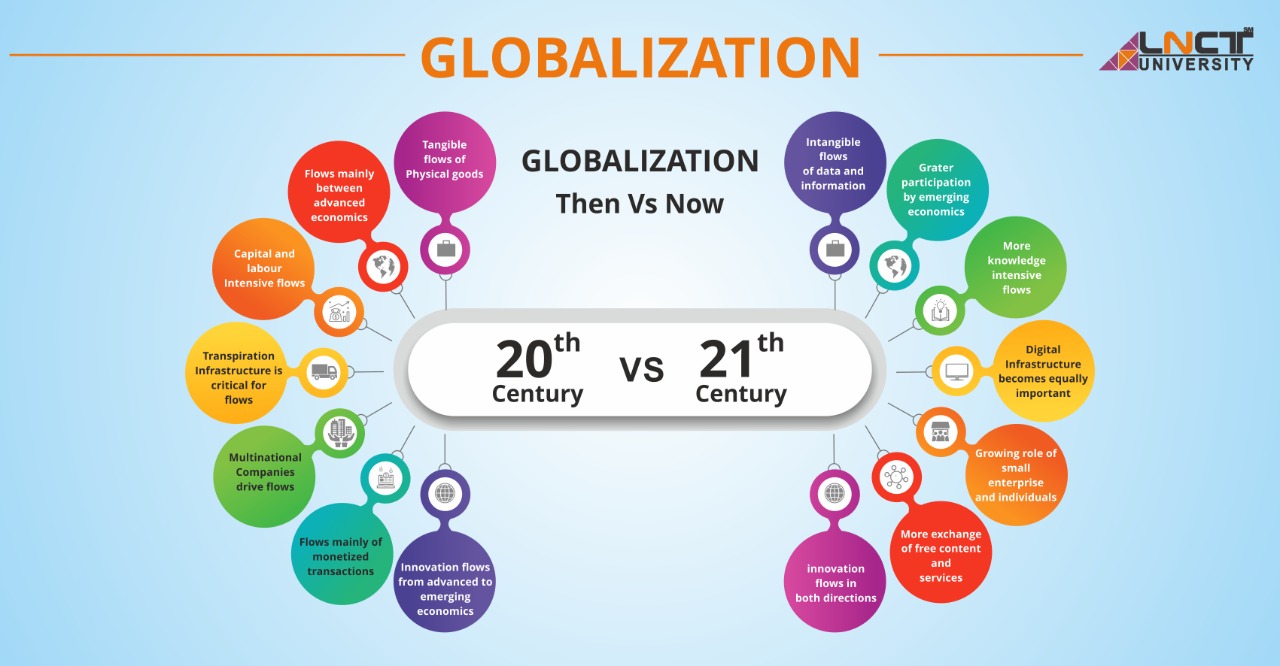 Primitive aims of education are to give the idea & power to the children to develop their potentials, define and pursue a definite purpose; it has put tremendous pressure on the education system to create 'winners' who are market enabled to battle in the race for the survival of the fittest.
The impact of globalization on the education system of a country is native. It brings education to the lead lines and in the prevailing discourse, is expected to be the major tool for incorporation into the 'knowledge society. Knowledge access with quality, globalization discourse where quality is defined as 'a knowledgeable content that enables students to obtain the education they require for the construction of an equitable social and economic world'.
Education in Developed and Developing Nations
Education deficits are greater in developing countries, but also a major issue in developed countries. In many industrialized countries there is a determined problem of low skills and illiteracy, which is an important source of social exclusion.
Unequal access to education also fuels growing wage inequality and worsens income distribution. In the global market uneducated and unskilled in industrialized countries face serious disadvantages.
Education is an important element of society, and it is also the foundation of democratic choice. The large differences in opportunities in education between countries are one of  the basic causes of global inequality.
 Globalization and Indian Schooling
Globalization plays an important role to push the frontiers of the potential of information technologies and communications for more effective learning. It also enables the ability of learners to access, assess, adapt and apply knowledge to think independently and exercise appropriate judgment, and also to collaborate with others to make sense of new situations.
It uses advanced communications technologies and information with new systems of knowledge in teaching and learning that aid both the teacher as well as the student.
The legislation and policies by the Indian government reflect its focus to meet the targets. The year 2009 was the landmark effort by the government as they passed The Right of Children to Free and Compulsory Education(RTE) Act. Children between the age of six and fourteen years now have the fundamental right to education. The Twelfth Five Year Plan by the Government clearly linked the quality of education to the availability of textual materials, physical infrastructure, classroom processes, academic support to the teachers, assessment procedures, and community involvement.
(Source: https://www.education.gov.in/sites/upload_files/mhrd/files/document-reports/XIIFYP_SocialSector.pdf)
It also focuses on providing adequate inputs and infrastructure for the proper functioning of schools and treats improving school inputs as just the starting point in improving educational quality.  Focus is also laid on provision for having child-friendly schools and systems in teaching-learning processes as well as in improved water, sanitation, hygiene, and mid-day meal practice. These lay down emphasis on the quality of education in the context of overall development.
Impact of Globalized Education on Employment
In recent decades, external India's trade has shown rapid growth. It is  said that most workers in India engaged  in more than one type of employment in any given period.
It is clearly contributing to the integration of labor markets &  closing the salary gap between workers in different types of countries like advanced and developing economies, especially through the spread of technology.
For the countries that are developing , globalization would result in the decline of inefficient capital-intensive industries that are heavily protected by tariffs and an increase in labor-intensive and export-oriented industries reflecting the country's comparative advantage.
Impact of Globalized Education Of Economy
After the implementation of Globalization, India significantly succeeded. In the field of corporate, retail, and the scientific sector the country has seen the growth of foreign investments. It also had a tremendous impact on the monetary,  social, cultural, and political areas. Globalization has immensely increased due to improvements in transportation and information technology.
The improved global synergies increases  the growth of global trade, doctrines, and culture. Indian society is changing after urbanization and Globalization. Economic policies established and administered by the government also performed an essential role in planning levels of savings, employment, income and investments in society.
Greater Number of Jobs:   Foreign companies and growth in the economy has induced job creation. Jobs are concentrated more in the services sector and this has led to rapid growth of the service sector creating problems for individuals with low levels of education. As job creation was not proportionate to the level of economic growth, the last decade was known for its jobless growth.
More choice to consumers & Disposable Income : Urban India working in high paying jobs have high income to spend on lifestyle. Globalization has  induced a boom  in the consumer products market. We have a spectrum  of choice in choosing  goods unlike the times where there were just a couple of manufacturers. Products like meat, egg, pulses, organic food led to protein inflation.
Conclusion
Indians & Indian institutes should decide about the nature and extent of globalization that can be constructively introduced in their socio-economic and educational systems. Though it is difficult to hold on to our core standards and not become a complete replica of the international community, it is necessary that while doing so, the paramount of national interests should be kept in the first priority.
Sectors like education and development go hand in hand. Eventually, any  involvement in the global educational market can end up in harming the vital interests of students, and particularly of the poor and downtrodden for generations to come. Proper regulatory mechanisms  must be established to ensure that the universities do not end up exploiting students.
The education system should ensure that students gain not just depth of knowledge in these subjects but a holistic perception and skills that will equip them to face the real world. As an insight of the practical world are quite important to excel in the given fields. There must be opportunities to enlarge   their boundaries, platforms for collaboration and learning and recognition for those who strive to excel.
It is about always trying to push the bar a little more, by innovating and never standing still. The educational institutions must have to believe in a value based education system, then their students will excel in all walks of life. Schools and colleges are important drivers of change and evaluation. They create a vibrant, student community that continually innovate and excel in all spheres from academics to arts and sports.
It is a never ending process and for a country like India should utilize it properly to improve their national standard through their educational system. Globalization is a key to change the future & build it constructively towards implementation of better education standards throughout.https://lnctu.ac.in/us-international-cell/