International E-Conference on Nurses a voice to lead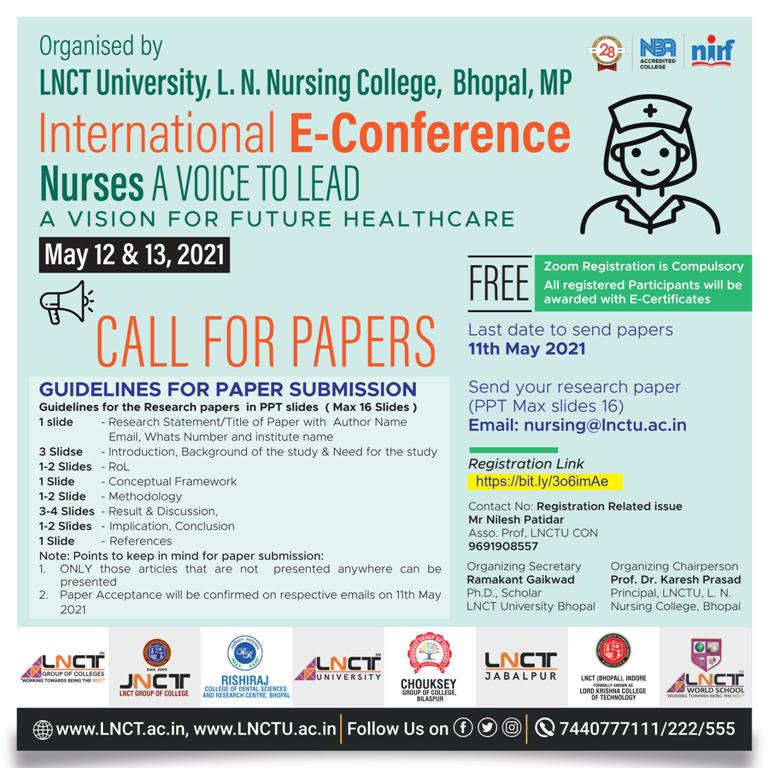 International E-Conference on Nurses a voice to lead
It gives us immense pleasure and honour to extend our heartfelt gratitude to all the honourable members of the management LNCT GROUP, for their Encouragement, Constant guidence and support to conduct two days International E- Conference on 12th and 13th May 2021.
We Proudly acknowledge Honourable Pro-Chancellor, LNCT University, Dr. Anupam Chouksey Sir and Dr N. K. Thapak, V. C., LNCT University, for his gracious presence, blessings and address in the Inaugural session. We are heatly grateful to Dr. Nalini Mishra, Dean LNMC for her gracious presence and address in the valedictory Function. Some Statistics of this Conference are mentioned below:
Total Registration- 979
Total Participants Joined on 12/5- 570
Total Participants Joined on 13/5- 540
International Eminent Speakers- Two (from Nigeria and Rawanda)
National Eminent Speakers-Nine (from Delhi, Chandigarh, Tamil Nadu, Karnataka, Maharastra, Chatisgargh and Rajasthan)
Total Research papers presented-16 (from Delhi, Tripura, Telangana, Karnataka, Maharastra, Chatisgargh, Rajasthan,MP)
We extend our gratitude to Dr. Sunil Singh for providing assistance in uninterrupted Internet services, Technical Assistance in preparation of Flyer, and Administrative support.
Prof. Ramakant,  PhD Scholar at LNCT to willingly take up the task of Organising Secretary
, Prof Dr. Kalpna Borse, Secretary Scientific Sessions
, Committee members
, All HODs, Faculities, IT team, participants and students.
International E-Conference
Description Nurses – A Voice to Lead A Vision for Future Health Care
May 12, 2021 08:30 AM
May 13, 2021 08:30 Am