Lecture on Safe Disposal of Pharmaceutical & Biomedical Waste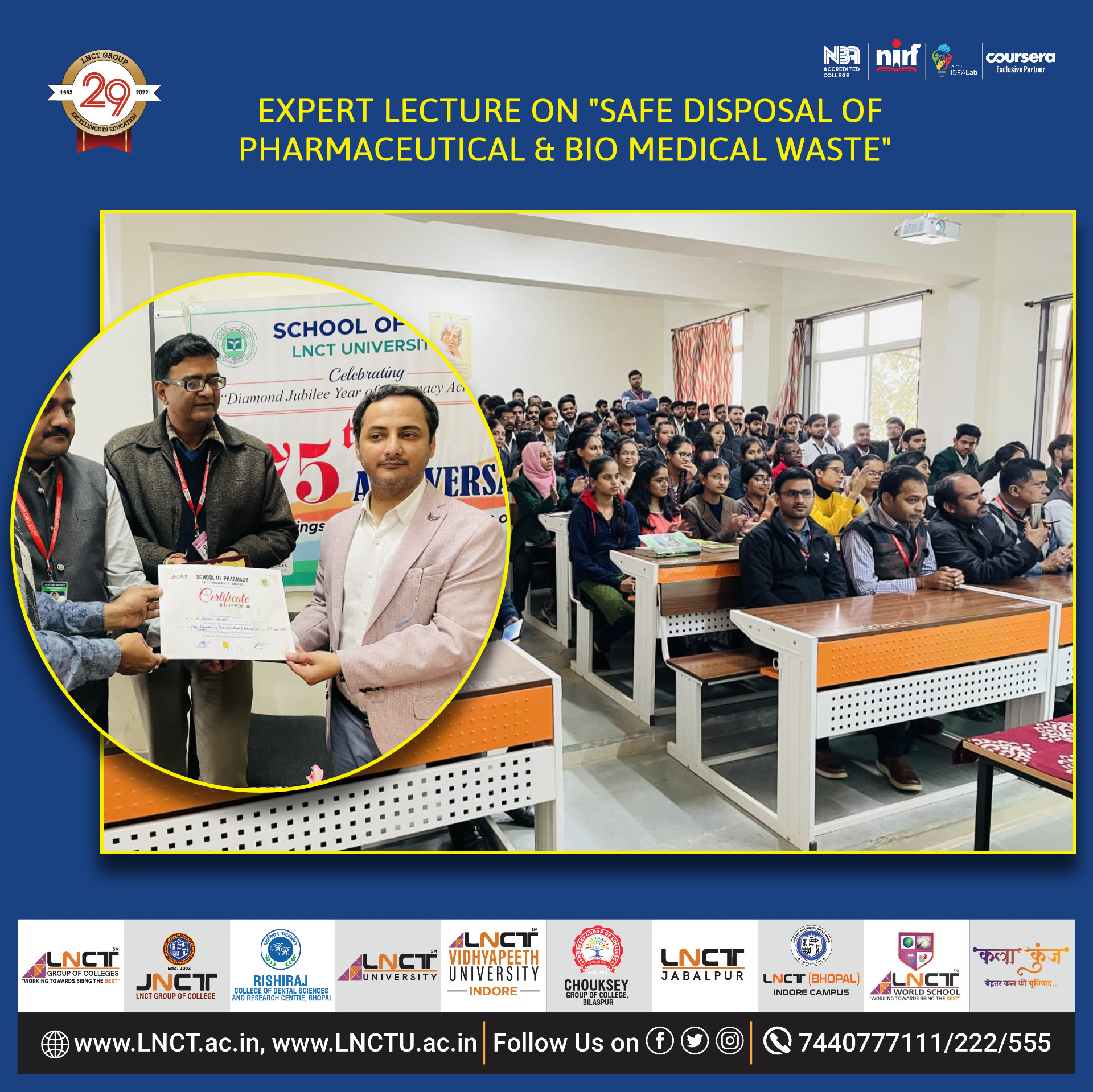 An expert lecture was organised by School of Pharmacy, LNCTU, Bhopal on 8th December 2022.
The expert lecture was taken up by Mr.Sacheen Gandhi, Founder/Director, Healthcopeia foundation, Healthcopeia wellness Pvt. Ltd, New Delhi on the topic "Safe disposal of Pharmaceuticals and biomedical waste".
The lecture was organised under the guidance of Dr.A.K.Singhai, Director School of Pharmacy, LNCTU, Bhopal. The welcome speech was delivered by Dr.Virendra K. Sharma, Vice-Principal School of Pharmacy LNCTU. Mr.Sacheen showed a documentary made on how people are dumping the waste products like sanitary napkins, expired tablets, packaging materials like aluminium, plastic etc. in water or on land. Mr.Sacheen explained how aquatic animals and animals are affected by these waste products when they ingest it.
Students got to know various methods opted by the industries for the right disposal of Pharmaceuticals for example by turning the waste into Ash at 800°C or by using microwave technology for incinerating harmful products. Mr.Sacheen gave a solution for safe disposal of such drugs which are expired i.e. by mixing it with cement and making a brick out of it, which is not harmful to our ecosystem. Students carefully listened and showed interest on the new topic which is rarely discussed among people. All the faculties and non-teaching staff attended the lecture and the Anchoring was done by Ms.Kusum, a student of B.Pharm. 5th semester.