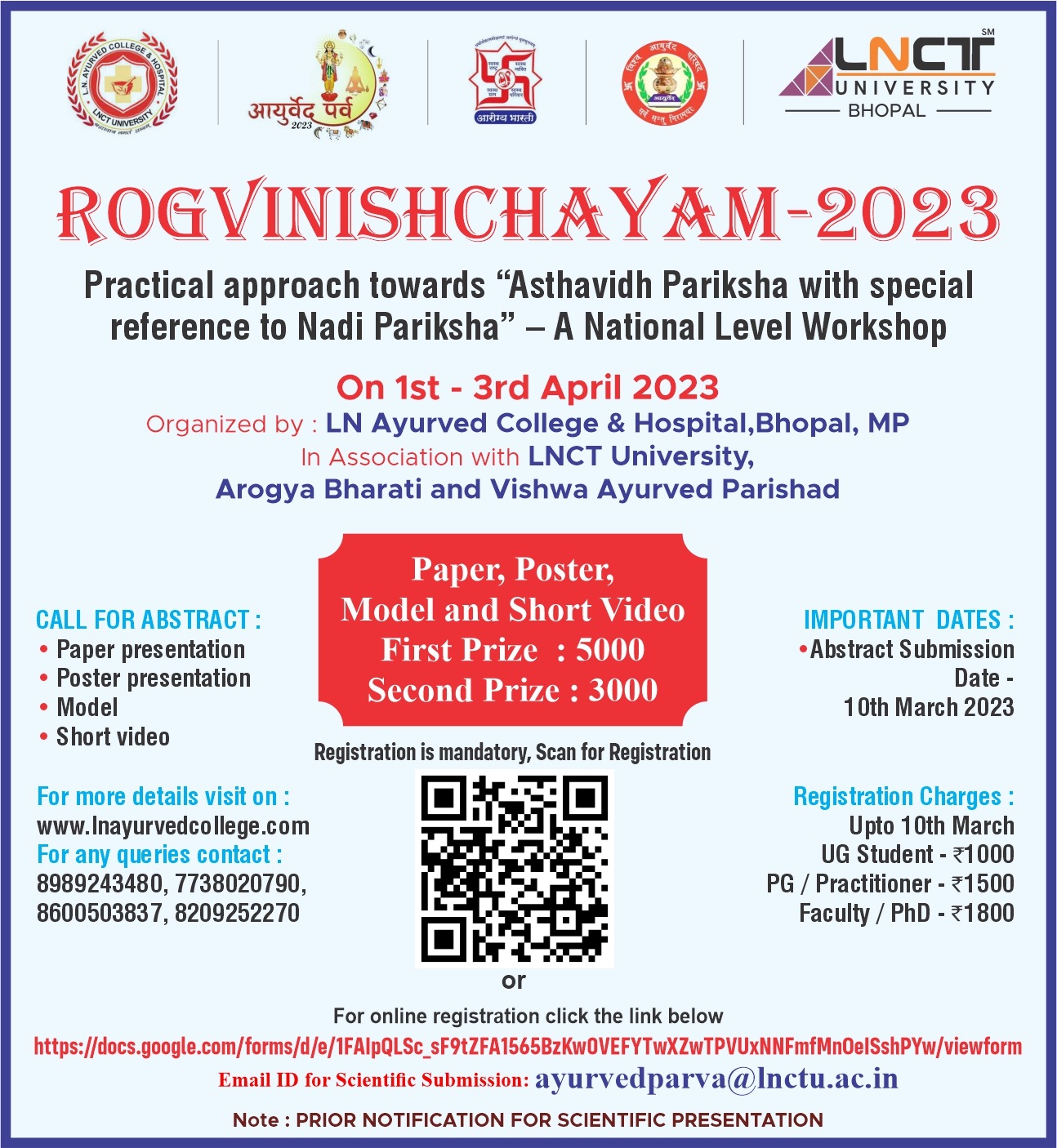 Call for Paper and Poster Presentations:
Theme of Paper:- 
Utility of Various Ayurvedic Diagnostic Techniques in present
Principles of Non Substance Therapeutics ( Amurta Dravya Chikitsa ) in Ayurveda
Post COVID complications & Management Through Ayurveda
Recent Advances in Ayurvedic Surgical & Para surgical Procedures – Strength & Challenges
Concept of Dushi Visha & its Management in Ayurveda
Ayurvedic Approach towards Mental Health
Paediatric Nutrition and Disease Management in Ayurveda
Infertility and Ayurveda
Theme of Poster 
Management of Life style disorders through Ayurveda
Impact of Yoga & Spirituality on Psychosomatic Disorders
Importance of Indian Festivals regarding Health aspect s.r. to Aahar
An Eyeshot on Kshudra Dhanya (Millets) in Ayurveda
Pharmacokinetic & Pharmacodynamic of Ayurvedic drugs
Garbhasanskar
Paper and Poster Presentations Guidelines: 
Paper only for registered Practitioner, PG Students, PhD Students and Teaching
Poster- only for registered Practitioner, PG Students, UG Students, PhD Students and Teaching
The abstract should be structured in IMRAD (Introduction, Method, Results & Discussion) format with 3-6 relevant keywords.
The title should be followed by name of the author, designation and affiliated
Full Name, Email ID and contact details of the presenting author should be mentioned.
The abstract should be in maximum of 250-300 words.
The abstract and full paper should be prepared with Times New Roman font style, font size 12 and line spacing of 1.5.
Only word copy will be
Duration for Paper/Poster presentations- 6 minutes+ 2 minutes.
Size for Poster – 3 feet x 4 feet
All diagrams, pictures, tables and equations used in poster should be visible and
Note
Paper previously published/presented at any National/ International Seminars and plagiarized are not permitted.
Delegates will receive a confirmation mail on registered email ID.
The Scientific committee will review the paper and acceptance will be
Scientific committee reserves the right to accept or reject paper without Decision of Scientific committee is final.
Model
Themes
Prakruti Anukatva
Rasayan Chikitsa
Graha Chikitsa
Visha Chikitsa
Garbha Vigyan
Practical Advances in Panchakarma, Shalya Tantra, Shalakya Tantra, Rasashastra & Swasthvrutta
Model Rules 
Participant teams are required to send a detailed abstract of the
Abstract should consists of

Brief description of the
Material needed for the
Plan of the model.

Each Team should consist of maximum 5 members
Participants can choose any material of their choice.
Note:- All models will be sole property of university
Ayurveda Short Video Contest
Theme –
Har Din Har Ghar Ayurveda
Ayurveda in your Garden
Ayurved in Kitchen
Rules:-
The competition is open for all Ayurveda
Participant teams are required to send abstract with brief description of the
The maximum duration of short video should not be more than 5 minutes
The content of submitted video can be either Hindi or English.
Participation can either be in the form of individual or team (maximum 5 participants).
The content of the short video should be suitable for universal
Important dates to remember:- Abstract Submission- 10 March 2023
 For any Queries please Contact
Dr. Arun Kumar Gupta – 8989243480, 7999767255
Dr. Meghanandini Khandare – 7738020790
Dr. Nirmala Sawarkar – 8600503837
Dr. Nikita Baghel – 8209252270, 9529427463
Email ID for submission: ayurvedparva@lnctu.ac.in
Registration Fees till 10 March 2023
UG Rs. 1000/- Individual
Rs. 800/- Individual (In group maximum 15 Students)
PG/MO/Practitioner –           Rs. 1500/- Individual
Faculty/Ph.D. Scholar-         Rs. 1800/- Individual
Registration Fees After 10 March 2023
UG  –  Rs. 1000/- Individual
PG/MO/Practitioner – Rs. 1800/- Individual
Faculty/Ph.D. Scholar- Rs. 2000/- Individual
Account Details
Account Holder Name – LNCT UNIVERSITY – L N AYURV COLL AND HOSP
Name of Bank HDFC Bank Account No. – 50200047448269 IFSC CODE – HDFC0004668