Bachelor of Ayurvedic Medicine and Surgery (BAMS) Course in 2022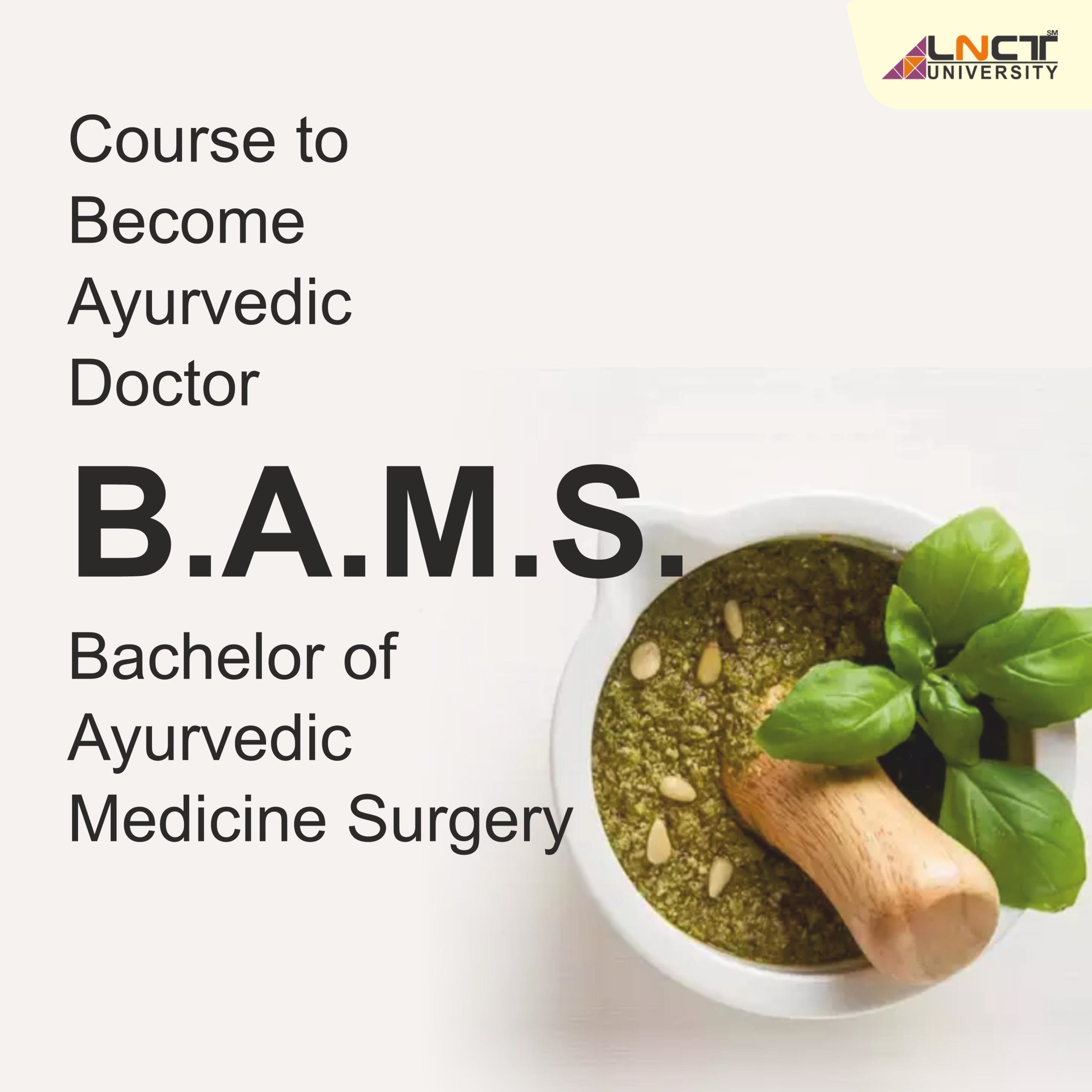 The BAMS stands for "Bachelor of Ayurvedic Medicine and Surgery." It is a medical course for undergraduates. The BAMS programme lasts 5 and a 1/2 years, with the final year being a mandatory internship year in which students must work as interns in the areas allotted to them. BAMS is a unique medical programme in which students are taught to treat patients exclusively with Ayurvedic medicine.
Ayurveda has been practised in India for thousands of years and has risen to popularity. Ayurveda can treat the majority of disorders that aren't treatable by Western treatment. Ayurveda medicine is in high demand, hence the BAMS course is in high demand as well. Many medical universities offer the BAMS degree, and some colleges are dedicated solely to the BAMS programme, with the BAMS curriculum focusing on Indian traditional medicine.
To be eligible for admission to the BAMS programme, students must take and pass entrance tests such as NEET and CET. Because of the scarcity of western medicine and the prominence of Ayurveda in India, BAMS graduates have a lot of work opportunities.
BAMS Course fee in India
One of the medicinal courses, Bachelor of Ayurvedic Medical Surgery, has a high value in India. In India, the average BAMS course fee is between 25,000 and 3.2 lakh per year.
BAMS Course Salary in India
In the medical industry, the BAMS training opens up more work opportunities. Ayurveda has a much higher profile than Western medicine, especially in India. In India, the average BAMS course pay is 3.5 lakh per year.
What is a BAMS Course?
The BAMS course is one of many medical courses available, and it is also one of the most unusual medicinal courses available. The Bachelor of Ayurvedic Medicine and Surgery (BAMS) programme is an undergraduate programme that lasts 5 and half years. It focuses on the value of Ayurveda, as well as its various permutations and combinations with medical technology. Students who want to work in the symphony of modern medicine and ancient Ayurveda will be awarded this degree programme.
Ayurvedic history, Sanskrit, and Samhita are just a few of the fascinating BAMS course subjects. There are just three types of dysfunctions or illnesses in the human body, according to Ayurveda: Kapha, Pitta, and Vata. In Ayurvedic nomenclature, these dysfunctions are known as the Dosha. Phlegm (water and soil) is Kapha, bile (fire and water) is Pitta, and wind is Vata (air and space). According to Ayurveda, a person becomes ill when the three doshas are out of balance.
One of the most in-demand and well-paid jobs is that of an ayurvedic doctor. BAMS is not only limited to India, but also to other nations in search of a fulfilling wage and professional prospects. Bachelor of Ayurvedic Medicine (BAMS) is the medical abbreviation for Bachelor of Ayurvedic Medicine.
Why Choose a BAMS Course?
Because these medicines are created from natural herbs, vegetables, and plants, Ayurveda is fast gaining popularity, not just in India but also in the Western World, due to its natural therapeutic powers with little side effects. Swasthavritta Yoga (Personal and social hygiene, including dietetics), which is popular among Americans and Australians, is one of the most modern kinds of yoga, with a wide range of work options for a BAMS course graduate.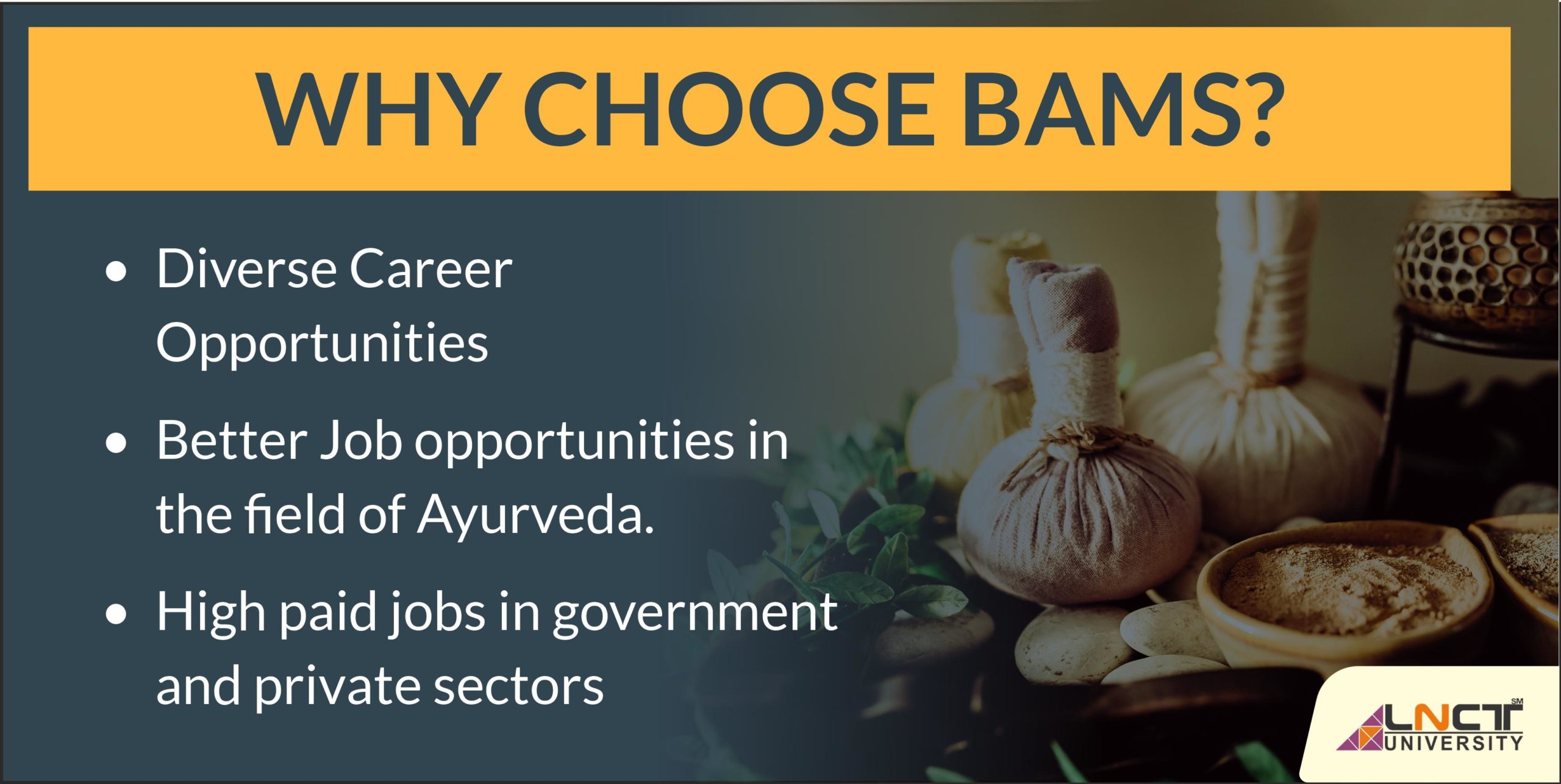 Category manager, medical representative, and other high-paying and attractive professions are specifically tailored for those studying the BAMS programme. Both the corporate and public sectors offer opportunities for graduates of the BAMS programme. Graduates of the BAMS programme can hold positions such as Jr. clinical trial coordinator and business development officer. An internship offer from a well-known and reputable organisation is a valuable addition to a person's professional development in terms of employment and experience.
Companies that specialise in the attributes related to the production of Ayurvedic medicines, such as Dabur, are highly recommended for candidates pursuing the BAMS course. Students interested in pursuing a career in Bachelor of Ayurvedic Medicine and Surgery must possess exceptional concentration and drive, as the course's curriculum involves both modern science and old Ayurvedic disciplines. After completing BAMS, a candidate can pursue postgraduate study by obtaining a Master of Ayurvedic Medical Sciences [MAMS]. BAMS course prices are substantially lower than MBBS course fees.
BAMS Entrance Exams
Several schools and institutions across the country and in each state hold entrance tests for the BAMS programme. Some exams are the same for all medical programmes, including Ayurveda. The following are a few of the exams:
NEET: The National Eligibility Entrance Test is a common entrance exam for medical students across India. NEET is held once a year and is valid throughout India for admission to any bachelor's degree programme in medical science. With a verified NEET score, students can enrol in any medical college in India.
OJEE: For admission to undergraduate programmes in Orissa, the Orissa education board holds a common entrance exam. Students who want to study BAMS in Orissa can take the Odisha Joint Entrance Examination. Every year in June, the OJEE is held.
KEAM: Kerala Engineering Agriculture Medical Examination is a standard entrance exam for candidates interested in enrolling in any of Kerala's undergraduate programmes. Kerala's education board administers KEAM.
GCET: For admissions to several undergraduate degrees, including BAMS, the Goa Education Authority administers the Goa Common Entrance Test. Aspirants for the Bachelor of Ayurvedic Medical Sciences should take both the NEET and the GCET exams because their scores are pooled for admission.
BVP CET: Bharathi Vidya Peeth Institution is a private university in Pune that administers the Bharathi Vidya Peeth Common Entrance Test for admission to several undergraduate programmes. Applicants for the BAMS programme can take the BVP CET to be considered for admission to Bharati Vidyapeeth University.
IPU CET: Guru Gobindh Singh (Guru Gobindh Singh) is For candidates interested in enrolling in the BAMS programme at Indraprastha University in New Delhi, the IndraPrastha University Common Entrance Test is held.
BAMS Course Preparation Tips
Every course necessitates some form of course preparation. Some of the tips are required for the BAMS course, and a few of them are listed below:
The importance of the fundamentals: Students can only succeed if their fundamental knowledge is improved. Because the BAMS contains a large number of syllabi, taking the time to learn and comprehend the principles of the course is critical. Knowing the basics can help a student score well.
Revision and Repetition: Because the curriculum is so large, revising is required, and repeating the corrected material every now and then helps the student grasp the subjects better.
Remembering the Practice: Because the BAMS course is in the medical sector, it is vital to remember what was practised during the study. Continuing to practise what was taught in medical institutions, as well as understanding the necessity and importance of those therapies, will aid students in their Ayurvedic practitioner careers.
BAMS Subjects
While the majority of subjects are taught in most Indian institutions, there are a few small differences in the curriculum of individual colleges. The following are the subjects covered in the BAMS curriculum:
BAMS Subjects
Sl.No
First-year

1

Padartha Vigyan And Ayurved Itihas

2

Sanskrit

3

Kriya Sharir

4

Rachana Sharir

5

Maulik Siddhant Avum Ashtang Hridaya
BAMS Subjects
Sl.No
Second-year

1

Dravyaguna Vighyan

2

Roga Nidan

3

Rasashastra

4

Charak Samhita
BAMS Subjects
Sl.No
Third-year

1

Agadtantra

2

Swasthavritta

3

Prasuti Tantra Evum Stri Roga

4

Kaumarbhritya Parichaya

5

Charak Samhita
BAMS Subjects
Sl.No
Fourth-year

1

Kayachikitsa

2

Panchkarma

3

Shalya Tantra

4

Shalakya Tantra

5

Research Methodology and Medical Sciences
BAMS Course Fees
The typical annual course fees for a BAMS programme range from INR 25,000 to INR 3.2 lakh. This value varies based on the college or institution where the aspirant is pursuing a BAMS degree, as well as the college's reputation and infrastructure. It also fluctuates due to quotas set by the government and management.
BAMS Course Syllabus
In India, the BAMS course is not divided into semesters, hence the syllabus is studied year by year. The BAMS course syllabus is separated into four years to make it easier for students to understand. The following is the BAMS course syllabus:
BAMS Syllabus
Sl.No
First-year

1

Ayurveda Nirupana

2

Dravya Vigyan Niyam

3

Pratyaksha Pariksha

4

Anumanapariksha

5

Pariksha

6

Samavaya Vigyaniyam
BAMS Syllabus
Sl.No
Second-year

1

Dravya

2

Prabhava

3

Mishraka Gana

4

Vyadhi Vigyan

5

Basic Pathology

6

Diseases of Rasavaha Srotas

7

Haematology
BAMS Syllabus
Sl.No
Third-year

1

Dinacharya

2

Ritucharya

3

Panchakosha Theory

4

Janapadodhwamsa

5

Epidemiology

6

Preventive Geriatrics

7

Garbha Vigyana
BAMS Syllabus
Sl.No
Fourth-year

1

Snehana

2

Bāhya Snehana

3

Virechana Karma

4

Physiotherapy

5

Nirjantukarana

6

Marma

7

Kshara and Kshara Karma
BAMS Course Eligibility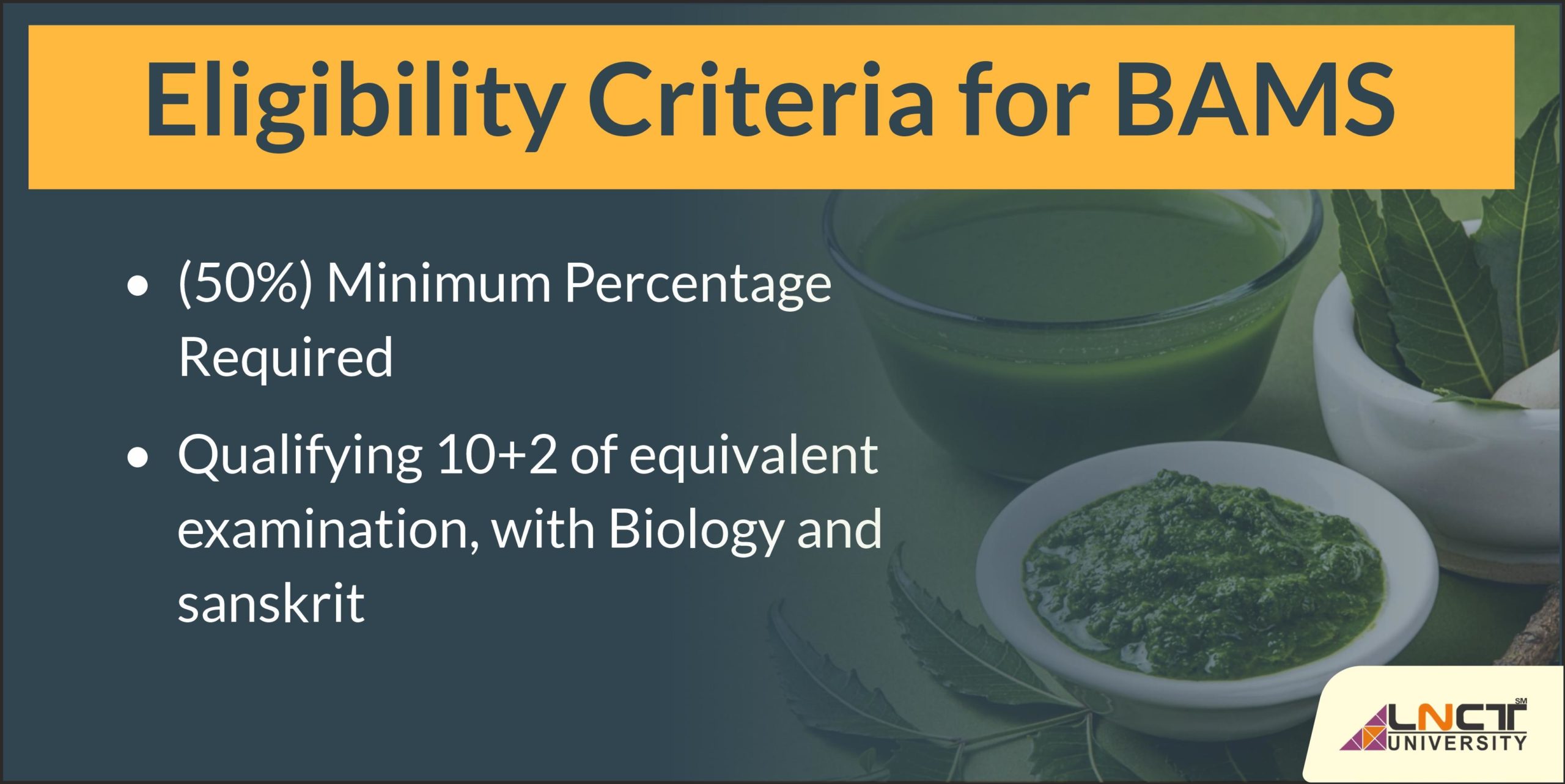 A qualifying 10+2 or equivalent examination with biology as a compulsory subject is the basic BAMS course eligibility condition for an applicant who intends to study Bachelor of Ayurvedic Medicine and Surgery degree. Aspirants to the BAMS program must complete their individual (10+2) secondary and higher secondary schooling from a recognized board with an aggregate score of 50% to 60%, depending on the college.
For their Bachelor of Ayurveda Medical Science course admission procedure, students can apply for direct admission at LNCTU. Admission to the BAMS program is based solely on merit.
BAMS Specialisations
After completing the BAMS program, one can pursue a variety of specialties. The following are the several specialization options accessible to BAMS candidates:
Padartha Vigyan

Sharir Rachana

Sharir Kriya

Swasth Vritta

Rasa Shastra

Agad Tantra

Rog & Vikriti Vigyan

Charak Samhita

Prasuti and Stri Roga

Kaumara Bhritya

Kayachikitsa

Shallya Tantra

Shalakya Tantra

Charak Samhita
BAMS Jobs
BAMS has a lot of potential. Because there are fewer possibilities, BAMS placement is simple. As a result, the course's scope and salary ensure that the student will have a successful career.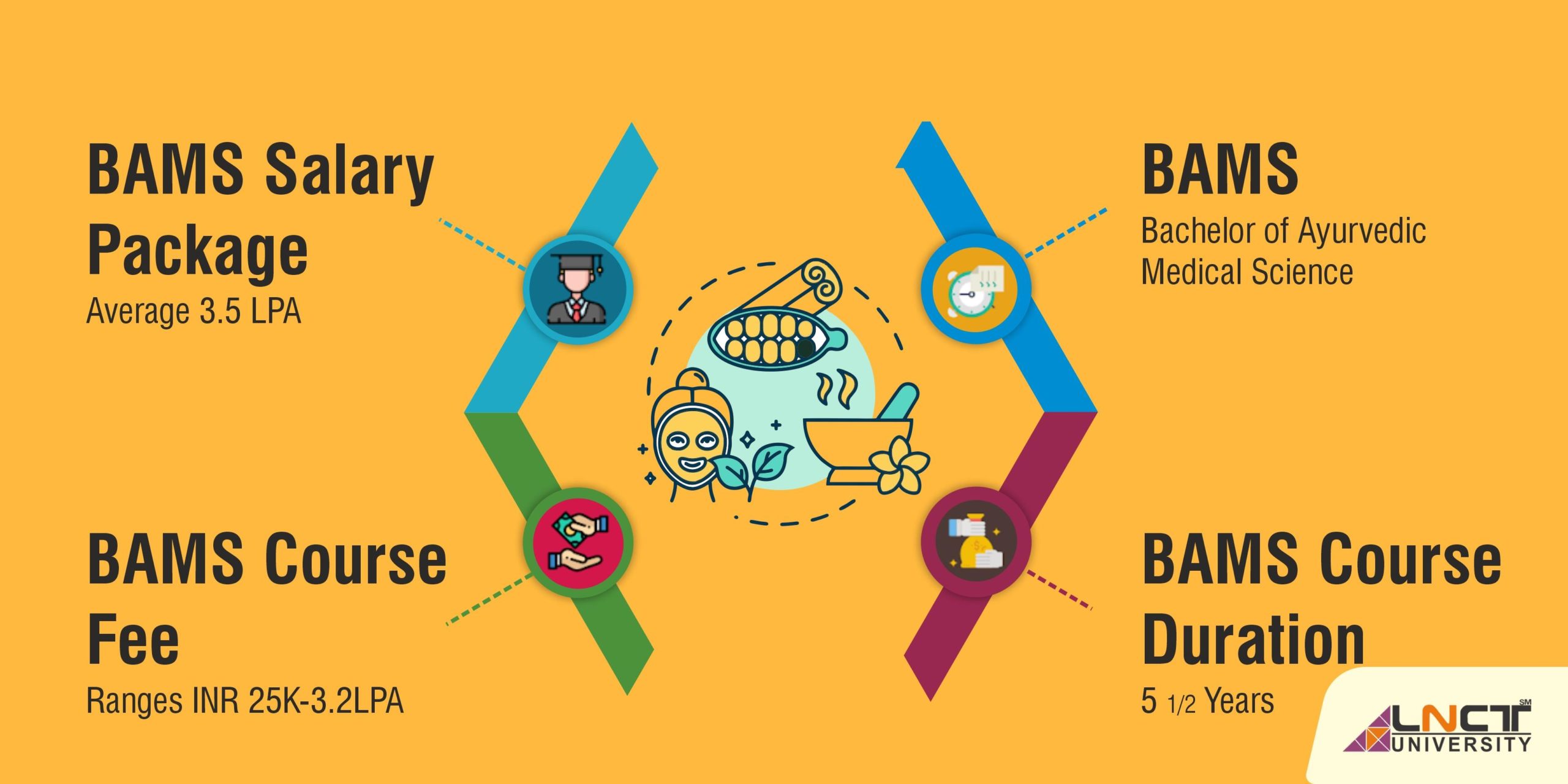 Apart from doctors, BAMS students are placed in positions such as
Medicine officer

Healthcare it

Clinical trials

Dispensary etc.
BAMS candidates' employment opportunities intersect with those of other medical systems not only in India but around the world. Graduates of the BAMS programme are qualified to work in both government and private Ayurveda clinics. The healthcare community, insurance, the life sciences industry, and the pharmaceutical business are all key employment opportunities for BAMS course graduates. The following are some of the most profitable job profiles for BMS graduates:
Lecturer

Scientist

Therapist

Category Manager

Business Development Officer

Sales Representative

Product Manager

Pharmacist

Jr. Clinical Trial Coordinator

Medical Representative

Ayurvedic Doctor

Sales Executive

Area Sales Manager

Assistant Claims Manager (Health)
Some of the areas of employment for graduates of BAMS include:
Ayurvedic Resort

Clinical Trials

Colleges

Dispensaries

Education

Government/ Private Hospitals

Healthcare Community

Healthcare IT

Insurance

Life Science Industries

Nursing Home

On Duty Doctor

Panchakarma Ashram

Pharmaceutical Industries

Research Institutes

Spa Resort
BAMS Jobs for Freshers
Fresh graduates of the BAMS programme may be eligible for some job prospects. The following are some of the job profiles:
Lecturer

Therapist

Business Development Officer

Sales Representative

Pharmacist

Jr. Clinical Trial Coordinator

Medical Representative

Ayurvedic Doctor

Sales Executive
BAMS Government and Private Jobs
In India, BAMS degree graduates have a plethora of attractive job prospects in the public and government sectors. The following are some of the job profiles:
Lecturer

Scientist

Therapist

Category Manager

Product Manager

Jr. Clinical Trial Coordinator

Ayurvedic Doctor

Assistant Claims Manager (Health)

Business Development Officer

Sales Representative

Medical Representative
What is the scope of BAMS doctor in India in future
Following the completion of the BAMS degree programme, there are several job options in the country and around the world. While being an ayurveda doctor at a private or government hospital or even opening one's own private ayurvedic medicine clinic is a popular choice, there are numerous more options available to BAMS students.
Several organisations participating in the Ayurveda system's research, development, and production of medicines want the competence and understanding of BAMS students with good grades and practical experience. Many candidates are also seen working in or opening their own Ayurvedic spas or Ayurvedic Medical Store & Consultation Space, in addition to entering into teaching to work as professors in the subject in any government or private university in the country or overseas.
Lecturer, Scientist, Researcher, Therapist, Business Development Officer or Domain Manager, Sales representative, medical analyst, ayurvedic doctor, pharmacist, or health consultant/expert are some of the several employment profiles for a BAMS graduate.
Expected Financial Gains:
The monetary incentive is also substantial in this medical profession, perhaps not as high as in other medical fields such as MBBS, but still adequate for a doctor or medical newcomer. While some colleges pay post-graduate doctors as researchers in the field between $40k and $50k, other entry-level professionals in the sector earn between $20k and $50k, depending on the kind and level of competence required for the work.
Clinical trials, healthcare communities, life science industries, pharmaceutical industries, healthcare IT, education, spa resorts, nursing homes, panchakarma ashrams, colleges, dispensaries, and research institutes are among the most prominent employment fields for BAMS experts.
Read About Our More Courses:
M. Pharm (Master in Pharmacy) – A Complete Guide
Electro Homeopathy: Course, Career & Job Prospects
Diploma in Health & Sanitary Inspection
Diploma in Acupuncture – A Step by Step Guidance
Jobs for MSC Nursing in India 2021