Bachelor of Technology Agricultural Information Technology (BTech Agricultural Information Technology) is a four-year program that combines IT and agricultural studies. The course is taught at a number of well-known agricultural institutions throughout the country.
The applicant must have completed the 12th grade with Physics, Chemistry, and Mathematics as compulsory subjects. This course is only open to those who have passed state-level entrance exams.
LNCTU Bhopal, Tamil Nadu Agriculture University, Chandigarh University, Anand Agriculture University, and other top universities and colleges offer BTech Agriculture Information Technology. The cost of a course varies by college, but the average annual cost is INR 2,00,000.
Introduction to Computers, Introduction to Agriculture, Communication Skills, Physics, Programming in C Language, Introduction to the World Wide Web, and Botany are just a few essential topics covered in this course.
After completing a BTech in Agriculture Information Technology, candidates can apply for positions such as Supply Chain Manager, Crop Insurance Manager, etc. The average starting salary is between INR 2,50,000 and INR 4,50,000.
BTech Agriculture Information Technology: Course Highlights
| | |
| --- | --- |
| Course Level | Undergraduate |
| Full-Form | Bachelor of Technology in Agriculture Information Technology |
| Duration | 4 Years |
| Examination Type | Semester system |
| Eligibility | 10+2 with Science subjects |
| Admission Process | Entrance-based |
| Course Fee | INR 2,00,000 PA |
| Average Salary | INR 2,50,000- 4,50,000 |
| Top Recruiting Companies | FCI, Colleges, etc. |
| Job Positions | Supply Chain Manager, Crop Insurance Manager, etc. |
LNCT university has a nearly identical admissions process. To enroll in the course, candidates must complete the following procedures:
Step 1: Create login details for the candidate.
Step 2: Access the university's official portal.
Step 3: Complete all needed fields and upload the necessary papers. The following are the required documents:
Step 4: Pay the application fee using a debit card, credit card, or net banking after uploading all required documents.
Step 5: Press the submit button.
Required Documents
Marksheet from tenth grade
12th-grade transcripts 
Certificates of Character and Migration
Aadhar card 
Candidate's signature
Passport size photograph
Caste certificate (if applicable)
Certificate from the Environmental Working Group (if applicable)
Certificate from the Department of Public Works (if applicable)
BTech Agriculture Information Technology: Eligibility Criteria
Candidates who are interested in this course and have passed the science stream of the 12th standard exam.

Candidates who have completed their higher and secondary schooling from an Indian educational board and have Mathematics and Biology as two of their core courses are eligible to apply for this program/.

The minimum aggregate scores necessary vary for each institute but are often around 45-50 percent.

IIT candidates must pass actual the Joint Entrance Examinations JEE Main.
BTech Agriculture Information Technology: Tip to Prepare for Entrance Exams?
The following are some tips for preparing for an entrance exam:
The first and most critical step is to create and keep to a schedule.

At least not at the time of preparation; no student can know everything mentioned in your curriculum. Students will eventually run across a notion that will get them into problems, and it is preferable to seek help from an instructor or a teacher.

When it comes to engineering admission examinations, it is more important than ever to have a firm grasp on the formulas and concepts instead of simply memorize them for the exams.

Each student must make small notes or a complete list of formulas for each studied topic and chapter, which will help in revision. This will assist you in being consistent with your work and will undoubtedly make revising easier.

Because most engineering tests will be for entrance to undergraduate programs, the syllabus from grades 11 and 12 will serve as a proving ground for candidates.

A Mock Test will demonstrate the students' abilities because it not only simulates real exams but also aids in the elimination of the exam.

The most crucial of all is time management, which all students studying for any type of exam should aim to master. Only through practice and regular assessments offered by the student can time management be learned.

To solve the paper in a style that you are comfortable with, make sure you follow a specific pattern. The purpose of engineering admission tests is to confuse students.

Negative marking is used in most entrance exams, and everyone advises you to avoid questions about which students are unsure.

Staying positive will not solve your questions, but it will save you from being overwhelmed. Confidence and optimism can help to create mystery and keep negative thoughts at bay.
BTech Agriculture Information Technology: How to Get Admission at LNCTU?
Your high school grades, courses, test scores, essays, activities, recommendations, and, if necessary, interviews are all carefully evaluated by college admissions officers. Following the recommendations below will improve your chances of being accepted into the institutions of your choice:
Prepare for the JEE by familiarizing yourself with the categories of subjects covered and the test instructions. During your second year, take the JEE. 

Determine what knowledge and abilities you lack and practice them in preparation for the actual tests. 

Take advantage of free online classes for JEE materials, study guides, practice tests, tutors, and prep courses before or throughout your junior year.

JEE is a good test to take since colleges will accept it. You might perform better on one test than the other. This will improve your chances of being accepted.

Take JEE Subject Tests: Competitive colleges may require you to make certain of these tests, and exam results are taken into account.

Throughout your four years of school and summer holidays, strive to be simply in your school or neighborhood. You must maintain a note of your involvement in extracurricular and co-curricular activities, sports, and/or volunteer activities in your community. Ascend the ranks of management. Demonstrate development. Develop a strong interest or talent in one or more subjects.

Ask your school counselor and teachers who are familiar with you for advice.

Prepare for on-campus interviews if they are required by institutions.

Reduce your stress by beginning your search for colleges as soon as possible—no later than the beginning of your junior year. This allows you to seek colleges and take the required exams.
What Is a BTech in Agriculture Information Technology?
BTech. Agriculture Information Technology (AIT) combines Agricultural Studies, Engineering, and Information Technology. Despite its youth, IT has a significant impact on a wide range of engineering disciplines. IT's importance has grown to the point where no industry or corporation can function without it today. It is essential to the majority of major industries, including healthcare, education, and core industries.
Using the many applications of IT in the sector of agriculture can help boost fertility and benefit. Agricultural Information Technology is a program that aims to improve students' skills in both agricultural sciences and information technology. Agriculture is the primary source of income for 70% of India's people. As a result, the application of information and communication technology (ICT) in agriculture is critical. ICT has a huge role to play in the timely collecting of data and distribution of that data to users in developing countries.
What are the Benefits of a BTech in Agriculture Information Technology?
BTech Agriculture Information Technology is an engineering program that covers all aspects of agriculture as well as information technology. This course will also teach you how to design and manufacture farm machinery, agricultural and rural engineering structures, pump engineering and hydraulic control irrigation engineering, groundwater and well engineering, structural design, irrigation engineering, instrumentation, and agricultural control engineering.
Students will participate in several industrial trips, seminars, practicals, and workshops during this course to get practical knowledge of BTech (Agriculture Information Technology). So, if students take a course in agriculture information technology, they will obtain a vast understanding of agriculture and its various operations.
BTech Agriculture Information Technology V/s BSc Agriculture: Which is Better? 
| | | |
| --- | --- | --- |
| Parameters | BTech Agriculture Information Technology | BSc Agriculture |
| Duration | 4 Years | 3 Years |
| Focus Area | Agricultural Information Technology is generally designed to polish students in the fields of both agricultural sciences and IT. | The course is made to help students understand the use of automation and technology for agriculture practices and food processing. |
| Eligibility Criteria | 10+2 with Science subjects | 10+2 in Science stream with an aggregate of 45% |
| Admission Criteria | State-level or national level entrance examination marks | Merit / Entrance based |
| Average Course Fee | INR 2,00,000 per annum | INR 15,000 – 25,000 |
| Job Options | Supply Chain Manager, Crop Insurance Manager, etc. | Plantation Manager, Production Manager, Agriculture Research Scientist, Farm Manager, etc. |
| Employment Areas | Food Corporation of India, National seed corporation, etc. | Mother Dairy, Crystal Phosphates Ltd., DuPont India Ltd., Bayer Crop Science, etc. |
| Average Package | INR 2,50,000 – 4,50,000 | INR 2,50,000 – 6,00,000 |
BTech Agriculture Information Technology: Course Syllabus 
| | |
| --- | --- |
| Semester I | Semester II |
| Fundamentals of Physics | Data structure through C |
| Ncc / Nss / Physical Education | Discrete mathematics |
| English for speaking and writing skills | Field crops (Kharif and Rabi) |
| Bio- mathematics | Commercial Horticulture |
| Introduction to web scripting | Ncc / Nss / Physical Education |
| Introduction to agriculture | Solid State Physics And Basic Electronics |
| Economic botany | Environmental Science, Ecology And Forestry |
| Programming in C | Introduction to Multimedia |
| Fundamentals in computers | Computer Organization And Architecture |
| | |
| --- | --- |
| Semester III | Semester IV |
| System Analysis And Design | Fundamental Of Agricultural Extension |
| OOP Using C++ | Ncc /Nss / Physical Education |
| Website Development Using PHP | Introduction To Biotechnology |
| Relational Database Management System | Agricultural Meteorology |
| Soil, Plant Nutrient, And Water Management | Information Security |
| Entrepreneurship Development | Management Information Systems |
| Principles Of Agricultural Economics | Software Engineering |
| Agricultural Statistics-I | Introduction To .Net Framework And ASP.NET |
| Ncc /Nss / Physical Education | Project – I |
| Seminar-I | |
| | |
| --- | --- |
| Semester V | Semester VI |
| Java Technology | Plant Protection |
| Computer Networks | Application Development In Mobile Technology |
| Advance Asp.Net | Data Analysis With Matlab |
| Elective-I | Operating System With Unix/ Linux |
| Gis And Remote Sensing Techniques | E-Content Development Using Multimedia |
| Elective – II | Elective – IV |
| Extension Methodologies For Transfer Of Agril. Technology | Elective – V |
| Elective – III | Elective – VI |
| Seminar-II | Mini Project |
| | |
| --- | --- |
| Semester VII | Semester VIII |
| Experiential Learning – I | Project |
| Experiential Learning – II | – |
| Experiential Learning – III | – |
| Educational Tour | – |
BTech Agriculture Information Technology: Course Books
| | |
| --- | --- |
| Name Of The Book | Author |
| Landscape Erosion and Evolution Modeling | Russell S. Harmon and William W. Doe III |
| Soil Enzymology | Ajit Varma and Girish Shukla |
| Biofertilizers and Organic Farming | Himadri Panda |
| Applications in Agricultural Science | P.B. Bansal |
BTech Agriculture Information Technology: Job Profiles
The course teaches students about IT as well as agriculture, preparing them for jobs in the agricultural sector that require IT skills. State agriculture departments teach successful graduates of the discipline how to manage databases, maintain and manage them, and develop software, among other things. 
Students may also work in agriculture institutes and universities to manage IT operations, or they may pursue careers in traditional IT fields. Agricultural banks, private agriculture consulting firms, agricultural product marketing firms, and other organizations may also have openings.
Successful bachelor's degree holders can continue their education in this field and become agricultural scientists by enrolling in graduate programs such as M. Tech. and Ph.D. Agricultural engineering, farm machinery, crop production, renewable energy, and rural technology are all skills they can master. In the field of agriculture, there is also room for entrepreneurship. A good alternative for agricultural engineers is to teach at agricultural universities.
Some of the successful sectors where BTech Agriculture Information Technology students can be hired include the National Dairy Development Board, IIT Kharagpur, Cabinet Secretariat, Government of India, Natural Agricultural Innovative Project, and United Indian Insurance Company.
| | | |
| --- | --- | --- |
| Job Profile | Job Description | Annual Average Salary |
| Supply Chain Manager | Management of warehousing and supply chain systems. | INR 6,00,000 |
| Conservation Scientists and Foresters | Researching foresters. | INR 4,00,000 |
| Financial Analyst | Analyzing the financial aspect of the company. | INR 4,00,000 |
| E-Commerce Portal Manager | Managing the portal of Agriculture Information technology | INR 5,00,000 |
| Crop Insurance Manager | Managing the insurance-related things of agriculture technology | INR 8,00,000 |
| Agricultural and Food Science Technicians | Expert in food science and agriculture | INR 2,40,000 |
BTech Agriculture Information Technology: Future Scope
Agricultural engineers work on a wide range of projects, which is continually expanding. Radiant energies and biofuels, precision and self-moving farming technologies for irrigation, spraying, and harvesting and even more cutting-edge research related to growing food in space to support future exploration are some of the new project areas that are most likely to manage demand for the occupation.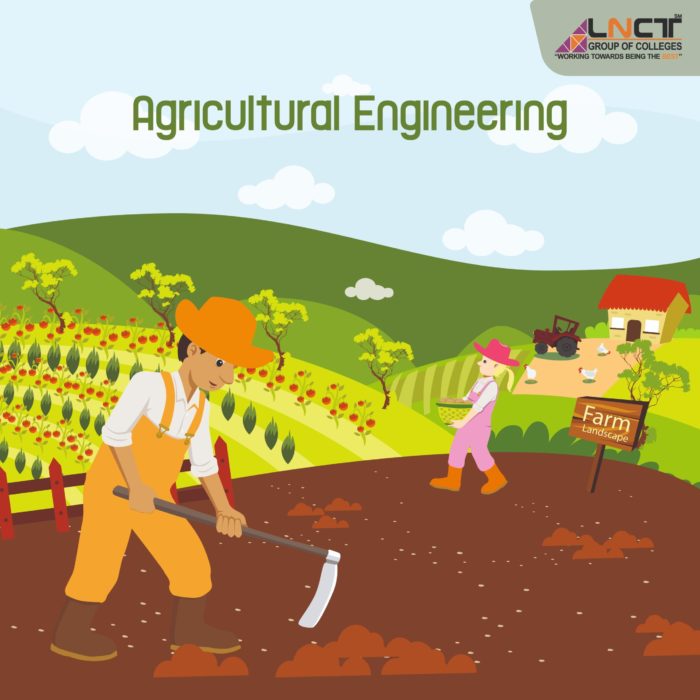 Traditional agricultural engineering projects such as irrigation, storage, and worker safety systems may see a rise in demand for these workers as a result of new, more well-organized designs. Increasing populations and stable global competitiveness can continue to motivate farmers to develop more methodical ways of production, and agricultural engineers will be needed to help them do so. The following are some of the positions available:
BPO Service Manager

Commodity Trader

E-Learning Specialist

Supply Chain Manager

Knowledge Management Expert

Farm Manager
Agriculture engineering graduates play a critical role in society by using mechanization and technology to meet the nation's agricultural output needs. They are concerned with improving the quality of manufacturing operations and agricultural product distribution.
Agricultural professionals can choose from a variety of career roles and operate in a variety of organizations and units. Agriculture engineers can work in a variety of areas, including structure and agricultural equipment design, plant, seed, and soil research, harvesting, manufacturing, and packaging. Many of them work on the design and testing of agricultural machinery, equipment, and parts.
Agricultural engineers can work for both the government and the private sector. They can be used both inside and outside. These individuals can operate as researchers in laboratories or as lecturers and professors in classrooms.
Agricultural engineers have the option of working as scientists, researchers, agronomists, or horticulturists, among other occupations. There are a number of Agriculture Universities and Institutions in India that cater to the growing demand for agricultural engineers. These courses provide B.Tech in agriculture courses as well as degree programs that match industry standards.
When it comes to picking a B.Tech in Agriculture program, however, many students have queries such as what is the scope of the course, what professional role they can pursue in the future, government work opportunities, and higher education options. We've compiled a list of employment alternatives for B.Tech Agriculture degree holders to help students answer these issues and make the best decisions possible. Read the entire article to learn more about B.Tech Agriculture Engineering: Roles, Responsibilities, Career Options, and Job Opportunities.
B.Tech Agriculture Engineering Job Roles
Deserving individuals who complete the B.Tech Agriculture Engineering program will have a lot of opportunities. After completing the course, candidates with applicable skills, knowledge, and guidelines will be able to choose the appropriate career.
Unfortunately, due to a lack of suitable supervision and guidance, many people are unaware of the importance of this course.
Education is very job-oriented, which is important in India because agriculture is so important to the country's economy. Technically skilled workers are always in high demand.
To assist students, the following is a list of available job roles for B.Tech Agriculture Engineering candidates:
Scientist in Agriculture Research
Candidates with a bachelor's degree in engineering can work as Agriculture Research Scientists in a variety of organizations. Agricultural researchers are in charge of conducting activities and experiments in order to boost the productivity of agricultural products.
He or she is in charge of making the best use of resources and improving the methods for producing and manufacturing things.
Agriculture Research Scientists are in high demand these days to suit the ever-increasing demand and needs of the public. Agricultural scientists can be agricultural engineering graduates with a penchant for research.
Engineer in charge of food safety applications
A food safety application engineer provides technological support for poultry farms' services and products. He also works in the food packaging industry. A food safety engineer inspects storage systems and manufacturing processes to verify that edible foods are produced and packed in a sanitary manner.
Graduates of agricultural engineering who want to work as engineers in food processing plants or similar industries can apply for Food Safety Applications Engineer positions provided by various organizations.
Plant and Soil Scientist
Soil and plant scientists are candidates who have obtained an agricultural engineering degree. He is actively interested in soil experiments to determine the texture and nutrition of the soil for agricultural purposes.
It's a great career for people who are passionate about plants and want to work in an environment with a lot of them.
Forester and conservation scientist
A conservation scientist and forester is a specialist who maintains natural resources, monitors park quality, and ensures forest conservation.
A greenhouse manager manages the breeding and hybridization of plants and crops as an alternate professional function. Other responsibilities include crop nutrition analysis, pest management, seed and crop production, and long-term production.
Engineer in Agriculture and Irrigation
The Agriculture and Irrigation Engineer is responsible for the design and development of equipment that protects crops from harsh weather and environmental changes. He or she is in charge of ensuring adequate water supply for crops, drainage systems, and dam availability, among other things.
Candidates having an agricultural engineering degree can work for the state government as Agriculture and Irrigation Engineers.
Lecturer/Professor
Graduates of Agriculture Engineering might work as lecturers or professors in public or private universities or institutes. Candidates who pursue higher study after completing a B.Tech degree have additional opportunities.
After completing a B.Tech in Agriculture Engineering, there are a variety of government jobs available.
For all graduates, including B.Tech Agriculture grads, working for the government is a profitable career opportunity. Check out some of the most popular government positions for B.Tech Agriculture graduates:
Agriculture Field Officer, IBPS (AFO)
IBPS conducts Specialist Officer entrance examinations, IBPS SO, for a variety of positions every year. Agriculture Field Officer is one of the job titles available in this area. It is a scale I Specialist Officer position that allows applicants to work in banks.
Agriculture Field Officers are bank employees that are in charge of lending and disbursing agricultural loans.
This position is open to anyone with a four-year bachelor's degree in agriculture. The candidate's minimum age should be 20 years old, and their maximum age should be 30 years old.
IFS Officer (Indian Forest Service)
UPSC (Indian Forest Service) is one of UPSC's civil service examinations. It is a well-known job role that most agriculture graduates want to pursue. Candidates who have a B.Tech in agriculture can study for the UPSC IFS test.
Job openings at the Indian Agricultural Research Institute (IARI).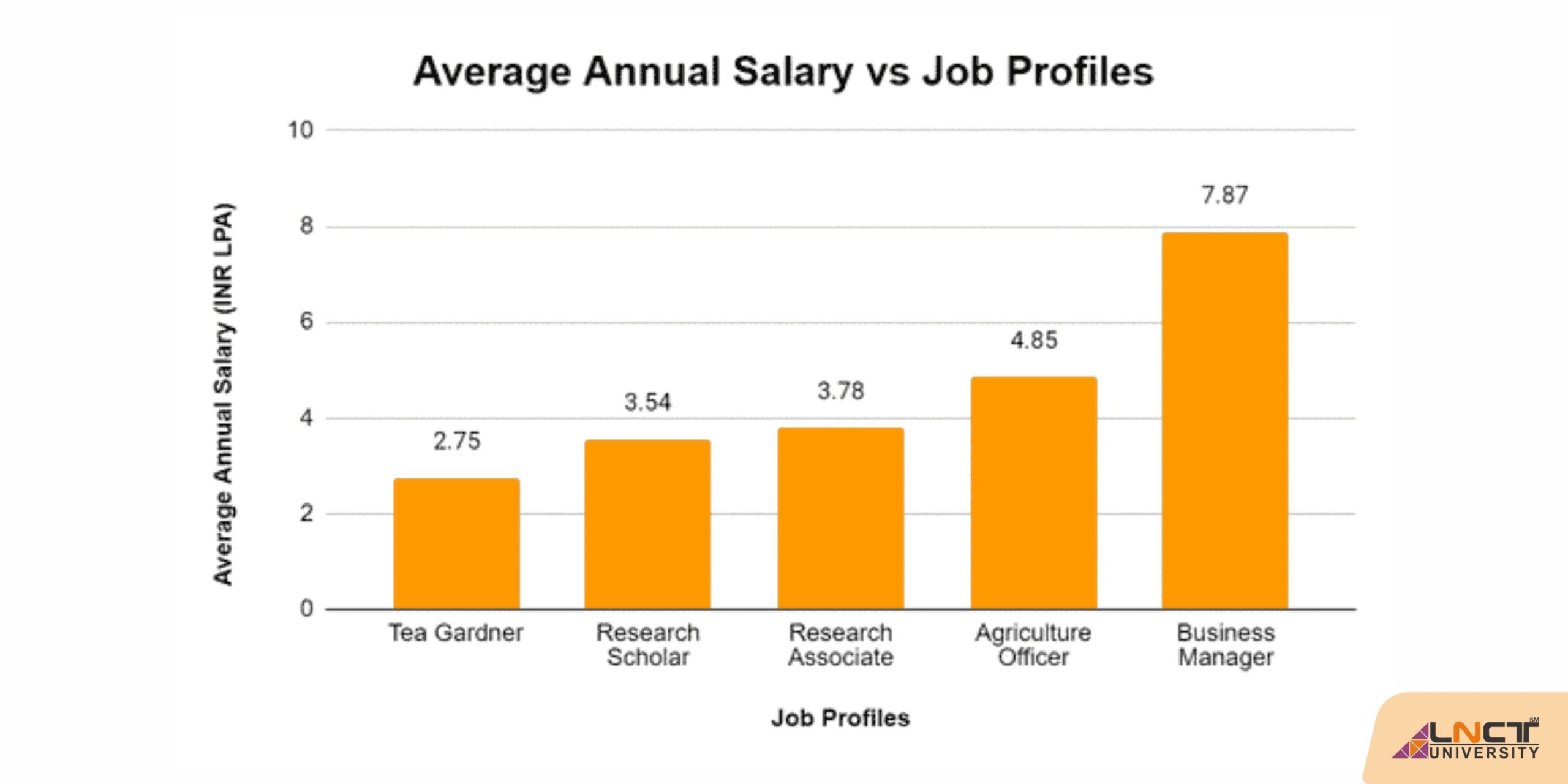 Candidates can also work at the Indian Agricultural Research Institute as scientists or subject matter experts (IARI).
The Indian Agricultural Research Institute (IARI) is the country's national institute for agricultural research, teaching, and extension. The Indian Council of Agricultural Research funds and administers the institute, which is currently based in Delhi (ICAR). IARI was in charge of the research that led to India's Green Revolution in 1970.
After completing a B.Tech in Agricultural Engineering, you can continue your education.
Candidates can pursue M.Tech from leading colleges in India and overseas after completing their B.Tech in Agricultural Engineering. Candidates with a B.Tech in Agricultural Engineering can take the GATE exam to apply for M.Tech programs at India's leading universities.
Candidates can also study for an MBA in Agribusiness in India or at one of the world's best agriculture schools.
Read About Our More Courses:
M. Pharm (Master in Pharmacy) – A Complete Guide
Electro Homeopathy: Course, Career & Job Prospects
Diploma in Health & Sanitary Inspection
Diploma in Acupuncture – A Step by Step Guidance
Jobs for MSC Nursing in India 2021
Top Paramedical College in Bhopal-2021