Law Courses/Education after 12th: Everything You Need to Know – LNCTU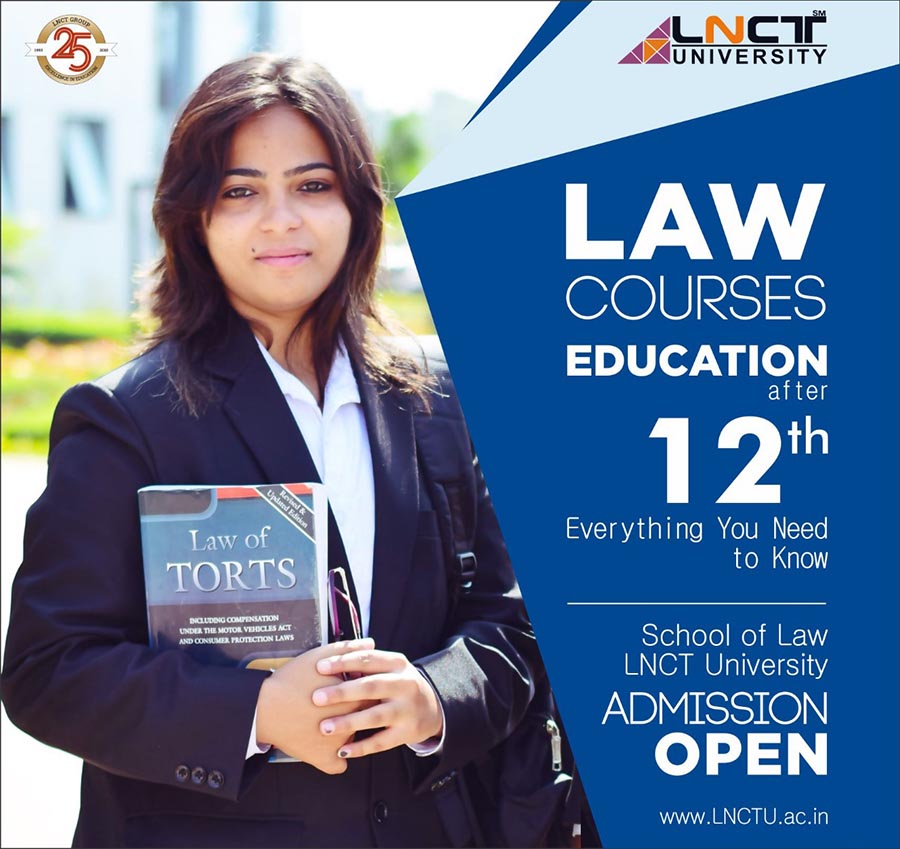 Planning for law courses after you've done your 12th?? This article is all about "Law courses after 12th"/"Law education after 12th"/"Law courses after Graduation" in India! That LNCT University offers its Law Students. Students who have a flair for Law will find this article informative and useful! Even Graduates who are interested in Law Education will find this article to be of use. Here are the following ways shortlisted by LNCT University through which one can pursue law courses :
HOW CAN ONE PURSUE LAW COURSE IN INDIA AND BECOME A LAWYER?
There are two ways in which one can study Law in India-
After 12th (by opting for 5 years long Integrated Law course after 12th)
After Graduation (by opting for 3 years long L.L.B. course after Graduation from any Discipline)
After completing Law Education using any one of the above mentioned method, one may enroll with the Bar Council of India and become an Advocate. One may also go for further studies and study advanced courses like- LL.M., M.B.L., M.B.A. etc.
Law education can be pursued in two forms- right after 12th or after graduation.
1 STUDYING LAW COURSE AFTER 12TH SCIENCE/COMMERCE/ARTS STREAM
12th Science, Commerce and Arts stream students, who have cleared their Board examinations from a recognized board, are eligible to apply for Integrated Law course (5 years long program). Do check out that detailed article about this Integrated program to get more idea about course combinations that you may try, depending on your 12th stream.
Some common examples of Integrated Law programs are-
B.Sc. (different specializations) L.L.B.
B.Com. L.L.B.
B.A. L.L.B.
B.B.A. L.L.B.
B.Tech. L.L.B.
It is evident from the above courses that Integrated Law program is nothing but the combination of two Degree programs. One of the Degree programs is Law (L.L.B.). The other Degree varies and students may select an appropriate one that suits the stream that they pursued in 12th standard.
2 STUDYING LAW COURSE AFTER GRADUATION
Another way to pursue Law Education is by selecting L.L.B. Course after graduation. L.L.B. is actually a PG course. Graduates from most branches and disciplines may pursue L.L.B. course. So, basically, after 12th, one has to go for any Graduation course and successfully complete it. After getting graduation Degree, one may go for L.L.B. Degree (3 years long program)!
Instead of going for regular L.L.B. program, Graduates may go for new Integrated programs like-
M.B.A. L.L.B.
M.Sc. L.L.B.
M.Com. L.L.B.
Most of these Integrated programs are relatively new and are offered by few Institutes in India.
After obtaining an L.L.B. Degree or completing the Integrated Law program, Law graduates may even go for specialization by selecting Master's courses- LL.M.
Above mentioned are the courses that LNCT University offers its students with top class faculty and facilities to provide its students with the best.
APTITUDES REQUIRED TO BECOME A SUCCESSFUL LAW PROFESSIONAL
If you want to be the one who looks forward in making the career in the field of law, then to prevail in this field, having a few aptitudes will make your way convenient! Those abilities are-great relational abilities, explanatory, legitimate and thinking aptitudes, snappy reasoning, will to demonstrate one's point, certainty, analytical aptitudes, great memory and so on. Having a constructive and wonderful identity will likewise help, with regards to this profession.
WHAT AFTER L.L.B./INTEGRATED LAW COURSE? HOW TO START LAW PRACTICE?
Wondering that what after pursuing a degree?? How to start your practice??
Don't panic LNCT University has sorted this too for you.
In the wake of finishing L.L.B./Integrated Law course, one may enlist with the Bar Council of India and begin practice in India. Be that as it may, it is smarter to go for specialization. This should be possible by seeking after LL.M. Degree or other comparable courses, for example, M.B.L. (Ace of Business Laws) and so on.
Graduates may likewise go for different business situated courses, for example, M.B.A., B.M.S., Diploma in Management course and so forth. Having administrative aptitudes will help Law experts land rewarding employments in Corporate area.
After L.L.B. or on the other hand LL.M., you have to experience a procedure before you may begin specializing in legal matters in India. Above all else, the applicant must have a Law Degree from a perceived Institute. Additionally, the applicant being referred to should pass the enlistment capabilities of the Bar Council of the State where he/she needs to rehearse.
PROSPECTS, SALARY AND SCOPE
Openings for work are accessible in wealth. After graduation, one may begin private practice and begin speaking to customers in the courts and show up for cases (after effective enlistment with Bar Council of India). In any case, it is smarter to work under senior Lawyers first, gain understanding and afterward begin private practice! Experience matters, with regards to this field. Experience will come helpful while scaling up vocation stepping stool.
Corporate area additionally needs all around qualified Lawyers. Business firms and Corporate houses need legal counselors to take care of different exercises, for example, legitimate parts of business, money related exchanges, tax collection, business laws, natural laws and so forth. Generally huge firms have legitimate group on their board that comprises of a group of Lawyers. After graduation, one may get a great job in one such lawful group having a place with corporate part organizations! Additionally check – rundown of best vocations in India.
Another profession alternative is of beginning up consultancy administrations. Thus, one could give lawful guide to assortment of customers, comprising of individuals to corporate goliaths. Beginning compensation if there should be an occurrence of a Lawyer working under a senior Lawyer is by and large around 10 to 20k Rupees for each month. In any case, if there should be an occurrence of Lawyers working for Corporate houses and in the Consultation Business, the compensation is commonly higher, around 30-50k Rupees every month. If there should be an occurrence of Advocates speaking to the Government, compensation depends on fixed Pay Band.
After reading the entire article, now you know everything about where and how to start to grab a degree, aptitude required to become a successful lawyer, what after doing the integrated law courses and also about the prospectus, scope and salary in this field. So what are you waiting for? Just visit the LNCT University website and take a step forward in grabbing your degree of law.