LNCT University and CRISP Bhopal on Wednesday signed a MoU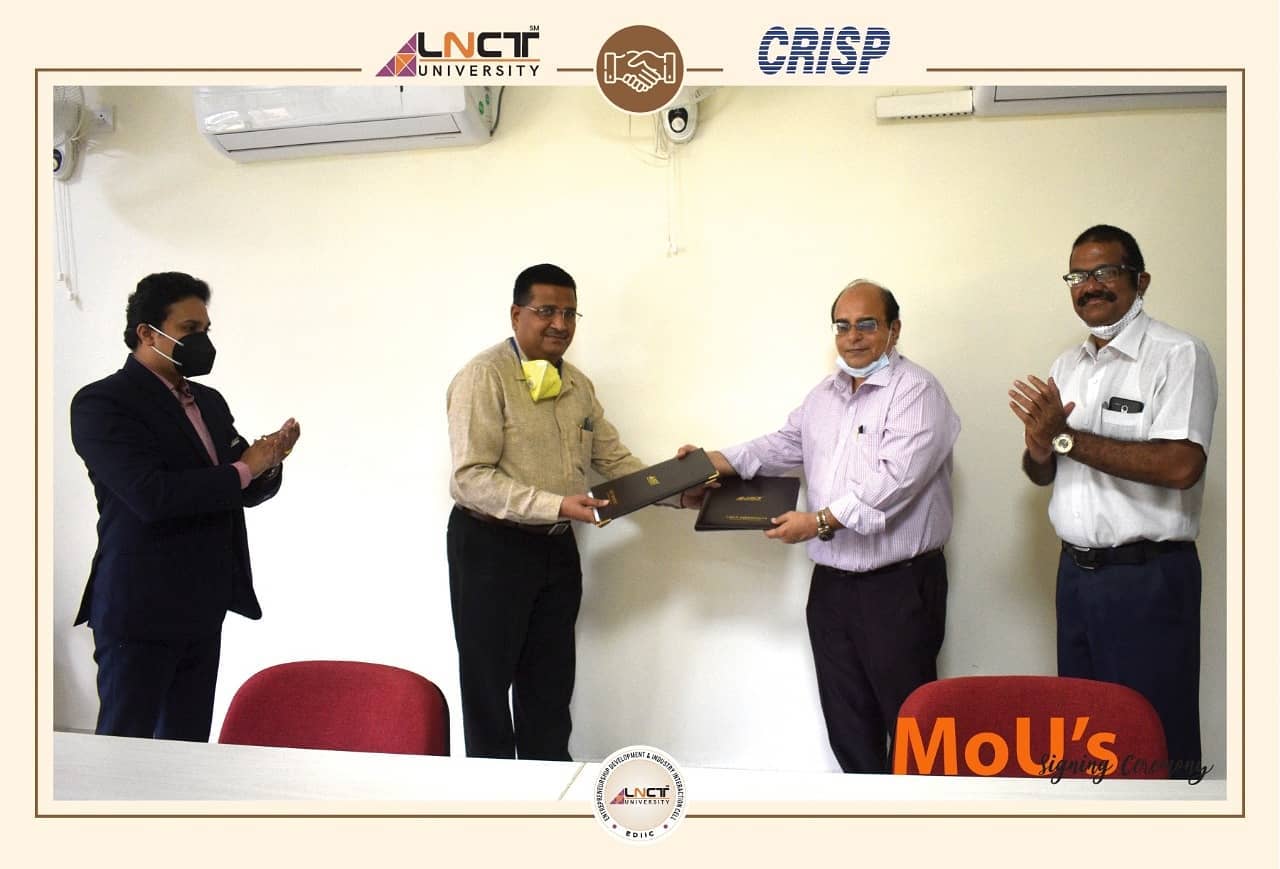 LNCT University, Bhopal and CRISP, Bhopal on Wednesday signed a memorandum of understanding (MoU)
LNCT University, Bhopal and CRISP, Bhopal on Wednesday signed a memorandum of understanding (MoU) here for providing short term programs to Graduate and Post Graduate students of LNCT University to enhance knowledge, skills, attitudes, and awareness among the students in their respective fields of specialization, to support students in the development of their projects, wherever possible and to organize skill development courses in specified areas of Advanced Technology & Management skills for the students and teaching staff. CRISP will also provide internship/industrial/vocational training programs to the students of LNCT University.
The MoU was signed by VC of LNCT University, Bhopal, and CEO of CRISP, Bhopal along with Mr.Rajesh Maheshwari and Mr.Faisal from CRISP, and Dr.Kul Prakash, OSD from LNCT University.
Shri J N Chouksey, Chancellor, LNCT University congratulated the team and extended all his support for future initiatives.
Dr.Anupam Chouksey, Secretary, LNCT University said that LNCT University will coordinate with CRISP for all skill development efforts across the country and will build the vocational and technical training framework for skill up-gradation.
LNCT University, Vice-chancellor, Prof (Dr.) Narendra Kumar Thapak said that LNCT University shall extend its support to CRISP by providing consultancy services in the form of faculty support, wherever it is possible.
CEO, CRISP, Mr. Mukesh Sharma said that CRISP will offer customized training to the students of LNCT University and will provide certificates to the participants on successful completion of training.