MBA Specialization in Data Analytics & Visualization.
MBA-Exclusive Program Offered.Face to Face sessions by Industry expert only.Designed to help you become a successful Business Analyst, this 2 yrs MBA program is for you to start career in Analytics. To understand this course, it is advisable to have a foundation level knowledge of business analysis. BA needed to be every industry for business insight. It will teach you how to understand data fundamental, analyse the data methodology, techniques, Python using business case studies,,powerful dashboards, Power BI & Tableau Data Visualization powerful tool of data along with a strong focus on business case studies such as TV,Print,Radio,OOH to ensure hands on learning.
Data analytics has proven its worth time and again by helping businesses examine structured and unstructured datasets and extract useful information so key stakeholders can make more-informed, more effective decisions. Analytics can be prescriptive, predictive, diagnostic, and/or descriptive to produce insights, observe trends, compare metrics, and more.
But it can only do so much. Endless columns and rows of alphanumeric data can be difficult to digest at scale. Depending upon the level of detail that stakeholders need to draw actionable conclusions, as well as the need to interact with or drill-down into the data, traditional data analytics might not be sufficient for businesses to excel in today's competitive marketplace. Additional tools are needed to help extract more timely, more nuanced, and more interactive insights than data analysis alone can provide.

The graduate & Post graduate Engineering programmers in Data Analytics at LNCTU University are about providing an innovative education filled with discovery, and dissemination of knowledge.

The reason data analytics is limited might be simple enough. Data analytics helps businesses understand the data they have collected. More precisely, it helps them become cognizant of the performance metrics within the collected data that are most impactful to the business. And it can provide a clearer picture of the business conditions that are of greatest concern to decision-makers.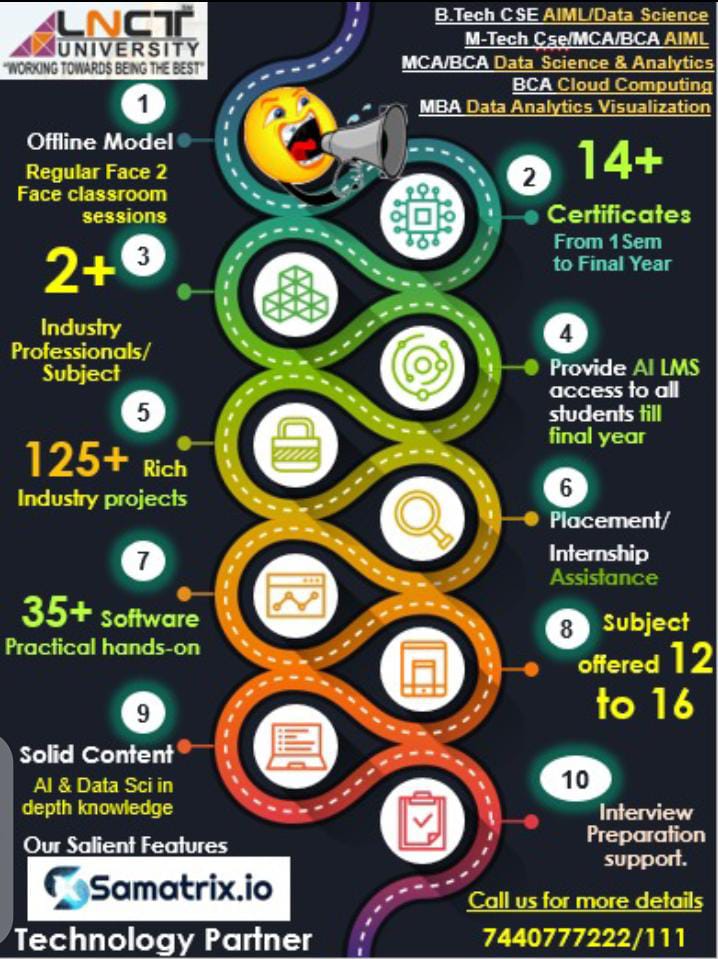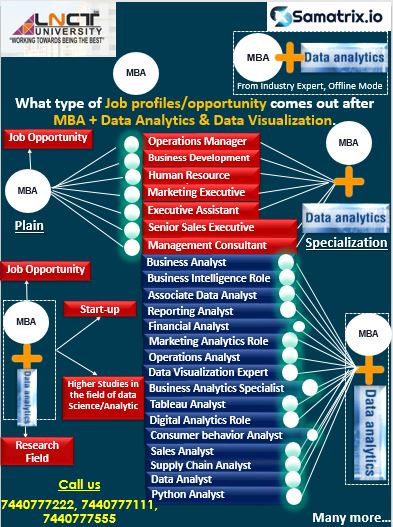 Exclusive Program Offered by only LNCTU university in Bhopal.
Face to Face sessions in University Campus by Industry expert only.No Online or Webinar.
Data Analytics & Visualization starting from 1st Semester till final Semester.
Consumer behaviour Analytics added in program as per Industry standard.
DS & Analytics from Industry experts only.
Certification Courses and Project based learning.
Practicals & Project Oriented program.
Gain Hands on experience with machine learning components, intelligent reasoning & various other AI tools & technologies.
Program in collaboration with Samatrix consulting Pvt Ltd. Gurgaon which is backed by a Strong R&D team.
Acquire ability to design models,intelligent solutions in variety of domains & business applications
Career development Classes from first semester for overall development of students.
Exposure of In-house Incubation Cell nurturing various Startups.
Excellent Result, Placement and University Rank holders.
Indoor & Outdoor Playgrounds for all Games.
About Samatrix Consulting Pvt Ltd
Samatrix Consulting Pvt Ltd is a technology company, led by IIT, IIM, Intel, HP alumni with deep industry expertise.It focuses on solving real business problems and developing the ecosystem through skill development incutting-edge technologies.
We have domain expertise in Artificial Intelligence, Machine Learning, Internet of Things (IoT), Big Data, DataVisualization, Augmented Analytics, Blockchain, and Virtual Reality. We cater to finance, insurance, travel,logistics, media, entertainment and e-commerce domains. Samatrix Consulting Pvt Ltd was founded with an objective of democratizing Artificial Intelligence and Machine Learning by solving the critical business problems and assimilate the technical know-how among the students, teachers and professionals, with an objective to bring the benefits of artificial intelligence and machine learning to everyone.
By harnessing the explosion in computational power and digital data, the organisation has been focusing to develop state-of-the-art solutions and algorithms to enable natural interaction between human and machine that can augment and enhance human skills and agility. To harness the power of intelligent machines, it actively engages with research community by conducting technical conferences and workshops, and collaboration with universities and technical institutions in India.It's research groups include colleagues from industry and academia cover all the topics related to artificial intelligence to understand and make progress in matters of AI.
What are data analytics used for ?
Data analytics refers to qualitative and quantitative techniques and processes used to enhance productivity and business gain. Data is extracted and categorized to identify and analyze behavioral data and patterns, and techniques vary according to organizational requirements.
Data analytics is the science of analyzing raw data in order to make conclusions about that information. The techniques and processes of data analytics have been automated into mechanical processes and algorithms that work over raw data for human consumption. Data analytics help a business optimize its performance.
How hard is data analytics ?
No Data Analytics is neither tough nor easy. You just need to focus on studies and learn the concepts of Data Analytics which includes Python , Data Science, Data Analytics using Python.
Is Data Analytics a good career ?
Data Analytics career prospects depend not only on how good are you with programming —equally important is the ability to influence companies to take action. As you work for an organization, you will improve your communication skills.
Does data Analytics require coding ?
No, not necessarily; as the course curriculum covers all the required programming languages from scratch. A STEM background however may be a bit beneficial.  
These AI & Data Science programs provide the job profiles:
Data Analyst

Business Analyst

Data Scientist

Artificial Intelligence Engineer

Research Engineer – Artificial Intelligence

Data and AI Consultant

MIS

Data Scientist


Data Miner

Risk Analyst

Program Analyst


Data Visualizer
Leading Recruiters- Trained professionals are needed by technologically driven companies across the platforms ?
Google

Amazon

Facebook

Swiggy

Makemytrip

Oracle

Genpact

HDFC Bank

FMCG Companies as they are producing smart machines

E-commerce companies like Snapdeal/ Flipkart
Does LNCT University provide transport facilities ?
Yes. LNCTU provides Bus facility from almost all corners of the city. Bhopal is a small city with a fine transportation system in order. Being centrally located in the city, the Institute is quite near to all the prime areas of interest in the city.