Scope of B.P.Ed (Bachelor of Physical Education) in 2022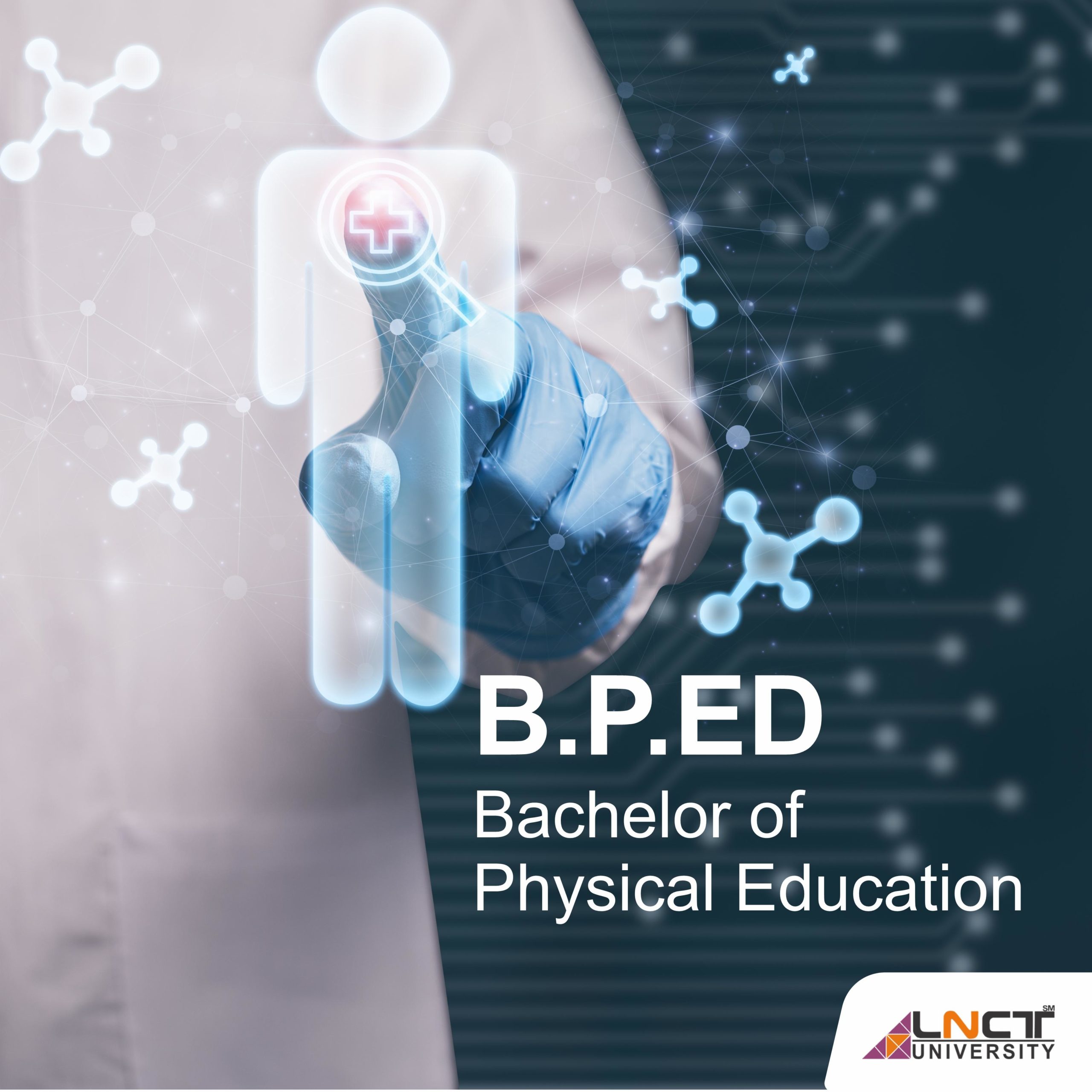 We live in a time where people understand the value of sports and fitness. With each passing day, this field expands dramatically. As a result, playing sports in college or high school is no longer only a pastime. By persisting with physical health and pursuing a career in Physical Education ( B.P.Ed (Bachelor of Physical Education) ) today, you can shape your future in the industry.
A career in physical education can lead to a variety of opportunities, including participation in your chosen sport, health clubs, sports goods manufacturing, marketing, commentator, sports journalism, trainer, and many more possibilities. Although you are more likely to get positions as a trainer or instructor for a game or sporting event in the beginning, as your experience grows over time, you will be able to apply it in sports writing, marketing, commentating, or other related professions.
Bachelor of Physical Education is the full form of B.P.Ed. It is a professional degree programme that focuses on fitness as well as numerous athletic disciplines. The average duration of a B.P.Ed programme is three years, but some colleges offer four-year programmes. A minimum of 50% in 10+2 is required for admission to the B.P.Ed programme. For a period of two years, bachelor degree graduates will be allowed to enrol in a B.P.Ed programme. The professional scope for a B.P.Ed is fairly broad, since it can lead to a career in a variety of sports and fitness industries, such as physical teacher, fitness instructor, coach, and so on.
B.P.Ed Course Fee in India
The cost of a BPEd course varies depending on the university/college criteria. The average annual course fee for a BPEd course is INR 6,500 to 51,000. The cost of a BPEd course varies depending on the university/college criteria. The average annual course fee for a BPEd course is INR 6,500 to 51,000.
BPEd Salary in India
BPEd graduates earn an average of INR 3.68 lakh per year. Which can change depending on one's expertise and field of employment.
BPEd Course
Physical Education is a course or training in which pupils are taught about the human body's growth and care. The theoretical paper and practicals are both part of the Physical Education degree programme. Aspirants must complete their (10+2) higher secondary education from a recognised board with a minimum of 50% marks to be eligible for B.P.Ed.
Those who have finished their BPEd can pursue higher education in physical education, such as a Masters in Physical Education, a Post Graduate Diploma in Health And Fitness Management (PGDM), or a Master of Philosophy in Physical Education. BPEd course specifics of selection and admission are based on the universities and how the institutions conduct entrance exams as well as physical fitness tests to pick applicants for B.P.Ed admissions.
The Physical Education course is geared toward athletes and people with a passion for sports and related activities. A sportsperson must be physically fit, energetic, and enthusiastic. All professionals in this industry must be completely dedicated to their work and their sport. Another advantage of this degree is that it requires you to be healthy and fit in order to pursue it.
Some of the universities that offer this programme are listed below:
Lakshmi Narayan College of Technology. Bhopal

University of Delhi, New Delhi

Maharshi Dayanand University, Rohtak

University of Calicut, Calicut etc
What is BPEd Course?
Bachelor of Physical Education is a three-year programme that serves as a foundation for those who are passionate about sports and their primary and secondary education, with the help of some of the best government facilities.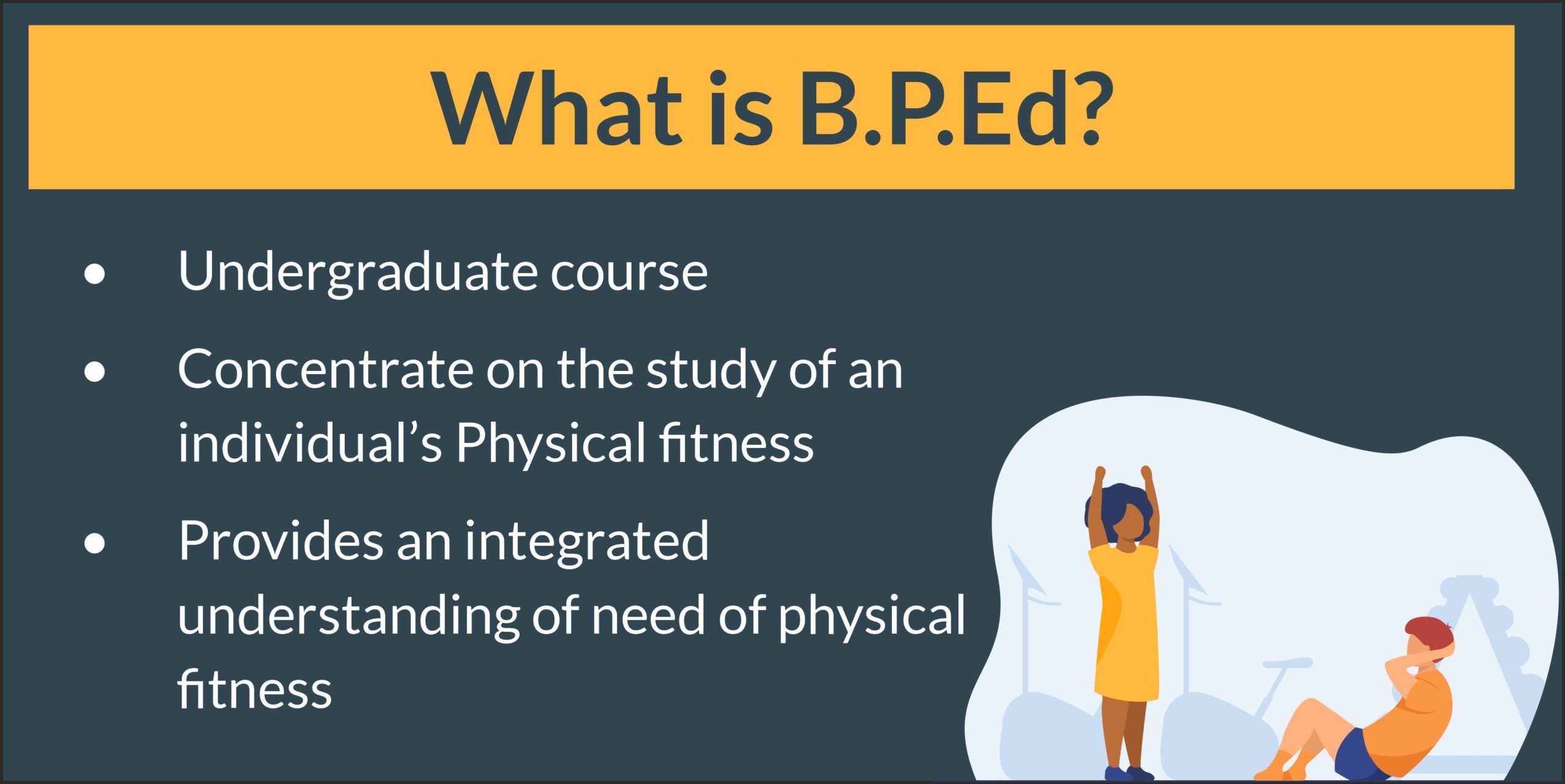 The following are some of the B.P.Ed disciplines that are covered in the curriculum:
English Communication Skills

Foundation of Physical Education

Education Methodology
Aside from the usual instructional and instructive programme, the course will allow participants to focus equally on their physical conditioning. Professionals can also work as sports trainers at national and international events such as the Commonwealth Games, Asian Games, and Olympics, among others. There are several B.P.Ed job options available.
Why Choose BPEd?
Individuals will be in the spotlight at some of the government of India's major national events, such as the Commonwealth Games, the Ranji Trophy, and others, which are organised by the sports authority of India. Individuals can be recruited as players or trainees in some of the national teams in their chosen sports, resulting in a real-time association with some of the best people.
Professional post-graduation can create their own sports academy in their preferred sport in various states under the auspices of the Indian Sports Authority.
The following are some of the BPEd job prospects that an individual can pursue:
Commentator

Physical Education Instructors

Trainer / Instructor / Coach

Sports Journalist
After completing a bachelor's degree in physical education or health and fitness management, an aspirant can pursue a master's degree in physical education or health and fitness management, which will enable them to pursue doctoral studies in this discipline. Aspirants can broaden their understanding of fitness by taking the B.P.Ed programme.
BPEd Course Preparation Tips
There are universities that perform physical tests for individuals seeking admission to the B.P.Ed programme. Physical tests such as sprinting, standing board jumps, shuttle runs, and other exercises are used to assess their readiness for this course. There may also be a general aptitude exam component where they will assess your understanding of sports and fitness.
BPEd Subjects
In comparison to theory, the BPEd course focuses mostly on practical themes. The following are the subjects covered by the BPEd programme:
Anatomy and Physiology

Fundamentals of Physical Education

Fundamental of Athletic and Games

Health Education and Environmental Studies

Sports Psychology and Sociology

Theory of Games and Sports

Gymnastics

Sports Management

Sports training

Yoga Education

Professional Communication

Educational Psychology

Athletics

Basketball

Football

Swimming

Hockey

Tennis

Handball

Table Tennis

Softball

Weight Training

Badminton

Judo

KAbbadi

Kho Kho

Cricket

Callisthenics
BPEd Course Syllabus
| | | |
| --- | --- | --- |
| Sl.No. | History, Principles and Foundation of Physical Education | Anatomy and Physiology |
| 1 | Introduction | Introduction |
| 2 | Historical Development of Physical Education | Blood and Circulatory System |
| 3 | Foundation of Physical Education | Physiology |
| 4 | Principles of Physical Education | Anatomy |
| | | |
| --- | --- | --- |
| Sl.No. | Health Education and Environment Studies | Olympic Movement |
| 1 | Health Education | Origin of Olympic Movement |
| 2 | Health Problems in India | Modern Olympic Games |
| 3 | Environment Science | Different Olympic Games |
| 4 | Natural Resources and Related Environmental issues | Committees of Olympic Games |
| | | |
| --- | --- | --- |
| Sl.No. | Officiating and Coaching | Yoga |
| 1 | Introduction | Introduction |
| 2 | Coach as a Mentor | Foundation of Yoga |
| 3 | Duties of Official | Asanas |
| 4 | Qualities and Qualifications of Coach and Official | Yoga Education |
BPEd Course Eligibility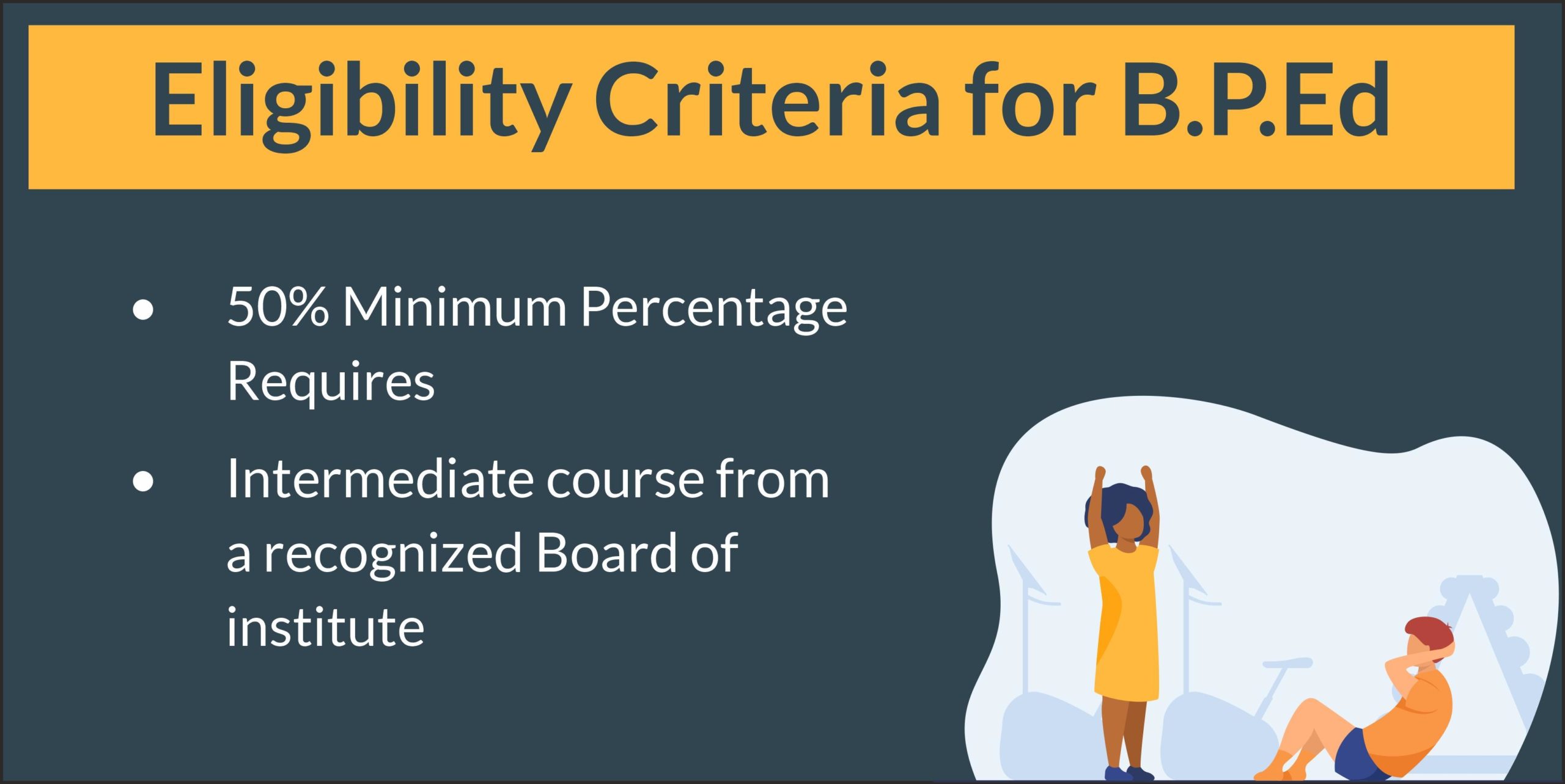 If they want to be admitted directly to the B.P.Ed programme, candidates must complete their (10+2) secondary and higher secondary education from a recognized board with a minimum of 50% marks. Candidates who completed their bachelor's degree with a minimum of 45-50 percent are also eligible for the two-year degree programme.
BPEd Course Admission
Students can apply online by filling admission form at the official website of LNCT University.
Fill in the required details and apply for admission in simple steps.
BPEd Jobs
The Bachelor of Physical Education [B.P.Ed] degree has a wide range of applications in both the public and private sectors. If meritorious athletes meet the educational requirements, the government hires them directly for Group 'C' and 'D' positions.
Outstanding athletes are also recruited by nationalised banks, public sector businesses, and certain private groups.
B.P.Ed graduates have a lot of opportunities. For a graduate with a B.Ped degree, the typical B.P.Ed income scale will be around INR 3.68 LPA. The following is a list of sectors where one can work after completing a B.P.Ed course:
Sports and Business Marketing

Sports Journalism

Fitness Centre

Sports Equipment Industries

Colleges

Private Schools

Hotel Industries

Sports Team
List of jobs one can get after completion of B.P.Ed course is given below:
Trainer/Instructor /Coach

Sports Journalist

Sports Goods Manufacture Marketing Executive

Commentator

Physical Education Instructors

Umpire/Referee

Professional Players

Sport and Leisure Club Managers

Administrative and Sports Duties

Sports Photojournalists

Sports Administration
BPEd Jobs for Freshers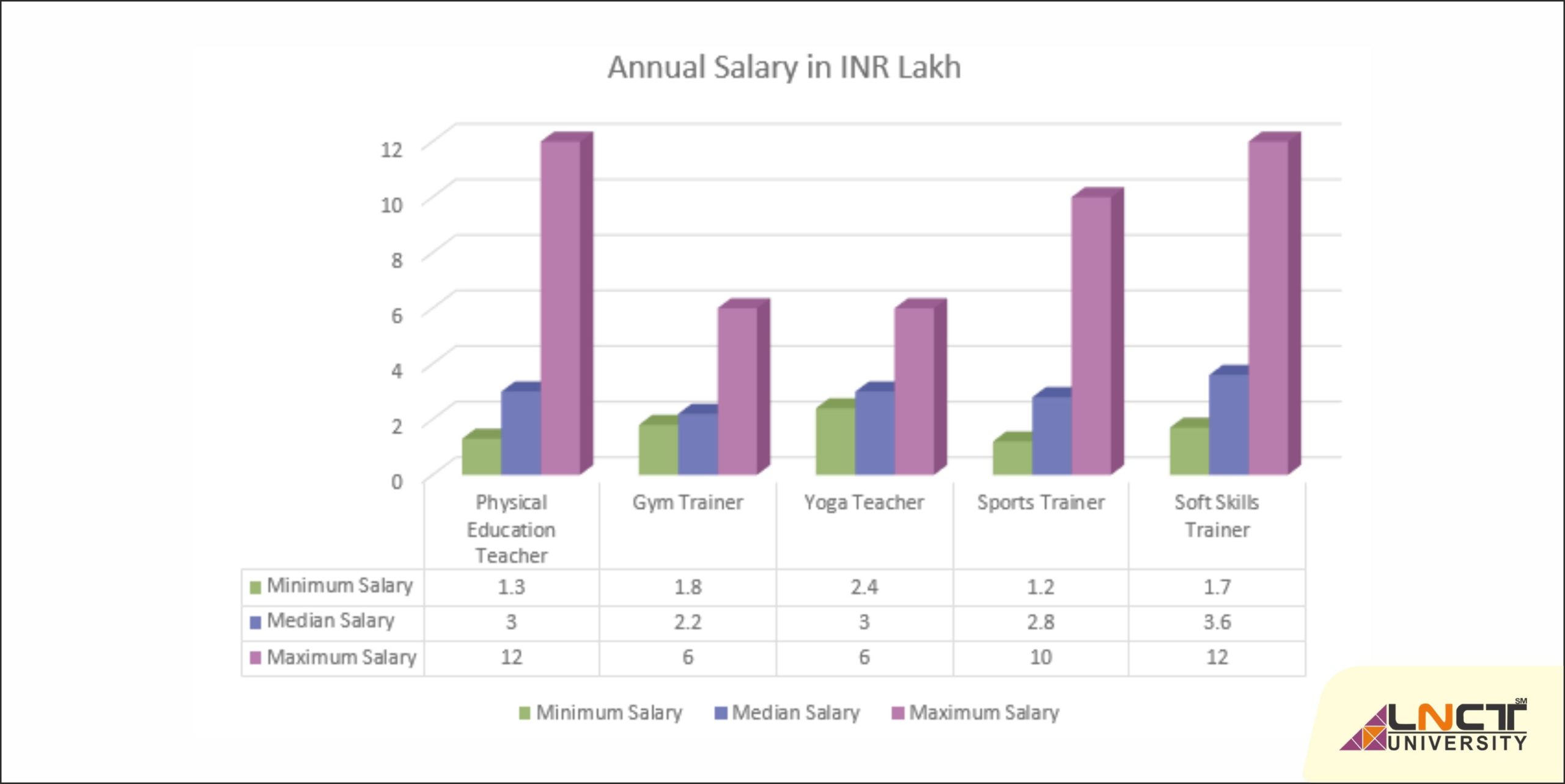 There are numerous job prospects available after completing a B.P.Ed study in a variety of fields. The following are some of the positions available:
Trainer/Instructor

Physical Education Instructor

Sports Coach

Sports Administration

Professional Players

Umpire/Referee
BPEd Government Jobs
One can apply for a variety of government employment with a B.P.Ed degree. As a physical instructor, there will be plenty of job opportunities at government schools and colleges. As a professional coach, one might also work in a sports academy. With a B.P.Ed, one can easily become an umpire/referee for several government sports championships.
Teaching is the most common employment choice open to applicants with a BPEd degree. 
Aside from teaching, candidates may consider additional job choices in the realm of sports and physical fitness. Take a look at some of the most popular BPEd job profiles below:
A physical education teacher organises games and sports that encourage students to engage in physical activity. A BPEd educator's purpose is to help kids develop motor skills, exercise habits, and healthy eating habits.
Umpire/Referee: An umpire or referee oversees a sporting event to ensure that the quality of play is maintained. An umpire/referee finds violations and imposes punishments in accordance with the sport's/rules. game's
A professional athlete develops abilities, improves physical condition, and prepares for tournaments by frequently exercising and practising under the supervision of professional trainers or coaches.
Gym/Personal Trainer: One of a gym's or personal trainer's main responsibilities is to demonstrate workouts and routines to clients. A trainer also aids customers in exercising in order to avoid injury and maintain proper fitness. A trainer would usually modify exercises based on the fitness levels of the clients.
A sport or athletic trainer is a highly competent healthcare practitioner who works with physicians to provide services such as emergency care, clinical diagnosis, therapeutic intervention, and injury rehabilitation to athletes.
A sports commentator is a professional who provides live, real-time commentary on a game or event, usually during a live broadcast.
A sports journalist covers professional sports and games and reports and writes about them. Interviewing coaches and players, reporting sports statistics, and even offering game commentary are all expected of a sports journalist. A sports journalist can work in a variety of media outlets, such as television, print, and radio.
Sports Administrator: A sports administrator performs a variety of administrative tasks in sports clubs, fitness centres, and sports organisations, among other places. A sports administrator is responsible for organising and scheduling sporting activities, managing budgets, and supervising staff recruitment and training.
A sports photojournalist/photographer captures images of sporting events, athletes, sports teams, and so on. A sports photojournalist can work for an organisation full-time or as a freelancer, selling his or her photos to newspapers and publications.
Yoga Trainer: A yoga trainer instructs students in the art of yoga in order to improve their physical and mental wellness.
A sport or leisure club manager is in charge of the day-to-day operations of the centres and their facilities. To ensure the proper operation of the centre, the manager often recruits, manages, and regulates staff as well as budgets.
In India, sports are no longer considered a recreational activity. The massive investment in numerous sports and associated fields has ushered in a renaissance in India's sports industry. Full form of B.P.Ed Bachelor of Physical Education is one such course that prepares students for a variety of sports-related careers. The B.P.Ed Syllabus is structured in such a way that it not only teaches candidates about the methodology of various sports, but also includes soft skills such as leadership, teaching practise for a better understanding of the students' mentality, and so on.
The Sports Industry in India is Developing at an Exponential Rate: The sports industry in India is growing at an exponential rate. It is expected to develop at an 18 percent compound annual growth rate (CAGR) through 2022, making it one of India's fastest-growing sectors and creating job possibilities for sports managers, trainers, and coaches.
Job opportunities: The B.P.Ed course not only assists in obtaining a decent job in the field of sports training and coaching, but also in auxiliary fields such as commentator, Sports Journalist, Commentator, sports administration, and many others.
Good compensation and other benefits: Most B.P.Ed graduates are hired as coaching staff, trainers, teachers, and other positions. Candidates with a B.P.Ed are engaged by government organisations such as the Sports Authority of India, the Athletics Federation of India, the AIFF, and others. The typical income is between INR 500,000 and INR 600,000 per year, with certain cases reaching INR 12-15 Lacs per year. In private institutions, salaries are also highly competitive, with employees earning above INR 300,000 per year. Insurance, medical and dental benefits, retirement benefits, and many other benefits are provided by the government and private institutions.
After completing the B.P.Ed degree, B.P.Ed candidates have the option of establishing their own academy or training programme. In India, there are about 5000 private sports academies or coaching institutions that train aspiring sportsmen.
Job satisfaction: A B.P.Ed graduate's job entails teaching individuals in a variety of sports. Individuals experience enormous job satisfaction when they win any tournament at any level on the international stage.
Read About Our More Courses:
M. Pharm (Master in Pharmacy) – A Complete Guide
Electro Homeopathy: Course, Career & Job Prospects
Diploma in Health & Sanitary Inspection
Diploma in Acupuncture – A Step by Step Guidance
Jobs for MSC Nursing in India 2021